Is Will Smith Boycotting the Oscars? Here's What We Know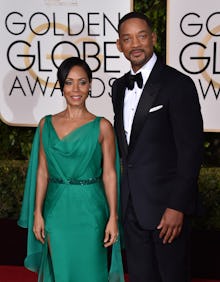 Jordan Strauss/AP
After Jada Pinkett Smith announced Monday in a video post on her Facebook page she would be boycotting the 2016 Academy Awards, the big question on many minds was whether her husband, actor Will Smith, would join her in skipping the ceremony.
Pinkett Smith's boycott was in response to Thursday's announcement of the Oscar nominees: For the second year in a row, not a single person of color was nominated in any of the four acting categories.
"I can't help but ask the question: Is it time that people of color recognize how much power, influence that we have amassed, that we no longer need to ask to be invited anywhere?" Pinkett Smith said in her Facebook post. "I ask the question: Have we now come to a new time and place where we recognize that we can no longer beg for the love, acknowledgement or respect of any group?"
Prior to the announcement of the nominees, rumors had been swirling that Will Smith might be a serious contender for the best actor Oscar for his role as forensic pathologist Bennet Omalu in Concussion. Smith has previously been nominated for two Academy Awards for his performances in Ali (2001) and The Pursuit of Happyness (2006).
So far, Smith has not explicitly announced he would be joining Pinkett Smith in boycotting the Oscars, but in a YouTube video posted Monday, The Fresh Prince of Bel-Air's Janet Hubert called out both Pinkett Smith and Smith. "Does your man not have a mouth of his own with which to speak?" Hubert asked Pinkett Smith in the video.
So far, it remains unclear whether Smith will be in attendance come Feb. 28, when the 88th annual Academy Awards will take place at the Dolby Theatre in Hollywood, California.