Here's What Google's 'India In A Day' Crowdsourced Documentary Means For the Film Industry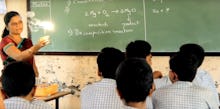 YouTube
On Sunday, Google released a first look at its upcoming documentary, India In A Day, which is directed by Siddharth's Richie Mehta, executive produced by Blade Runner's Ridley Scott and Satya's Anurag Kashyap and filmed by everyday people in India. The feature-length film, which will premiere sometime in 2016, seeks to be a "time capsule to show future generations what life was like in India at a moment of great technological change," according to its website.
The concept of the montaged film is to capture a candid first-person perspective of 24 hours of daily life in India at such a pivotal time. Although India In A Day is a Google company campaign, it comes on the heels of a trend that's changing the film industry by collaborating with normal people. The film was inspired by the critically acclaimed crowdsourced film Life in a Day, which documented what happened around the world on July 24, 2010, and was also produced by Scott and YouTube. 
Read more:
Google received over 8,000 submissions documenting Saturday, Oct. 10, 2015 according to Mashable. The filmmakers will edit it the hours of footage down. Among the the images of traffic, beautiful scenery and lively people, the film follows the narratives of three people: a boy and his need for Wi-Fi; a man who creates apps; and someone who is the only English speaker in his village and who thinks the internet could help improve education. 
"We have so much people here and the diversity, if you think that you are not capable of doing anything you are wrong," someone says in a preview of the film, posted to YouTube on Sunday.
"Communication, education, technology, transportation, population, politician, we are going to make this nation, we are going to develop this nation," another says. 
Google isn't the only company using crowdsourced footage as a way to campaign and market. In 2013, Airbnb attempted to make a video out of user-submitted vines, Wired reported.
More grassroots efforts through the internet are shaping the future of film, as people get to have a say in what will entertain them, which increases their enthusiasm in the project. In 2011, Chevrolet crowdsourced to choose its 2011 Super Bowl ad, according to Mashable.
Other than the everyday Joe getting to submit his own footage, crowdfunding sites like Kickstarter have also helped fund and change the game for making commercials and movies. In December, Axanar — a Star Trek-inspired film that raised over $1 million on Kickstarter and Indiegogo, making it one of the biggest crowdsourced entertainment projects — was sued by CBS and Paramount for intellectual property violations, the Hollywood Reporter reported. 
Below is the preview for India In A Day: 
Correction: Jan. 19, 2016