Here's How the 50 Cent-Meek Mill Instagram Beef Is Helping Flint, Michigan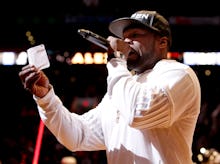 Rick Scuteri/AP
Rappers 50 Cent and Meek Mill have been feuding ever since Meek Mill released a track called "Gave 'Em Hope" denouncing 50's lifestyle on social media. The song also mocks 50 Cent's bankruptcy case in 2015. While the rappers hash out their beef online, the actual winner of the feud may be the city of Flint, Michigan.
The city of Flint is facing one of the most devastating crises of the last decade — the entire city's water supply has been designated as highly corrosive, and residents have been drinking water traced with lead since April 2014. A tweet from "Raspy Rawls" on Twitter prompted Meek Mill to challenge 50 Cent to match his donation of $50,000 to the distressed Michigan city. 
Read more:
"I got 50k to donate to waters ... Let's see if we can have @50cent match me!" Meek Mill wrote Monday on Instagram. "I'm pretty sure 'Flint' supported us! Serious post contact .... Roc nation will purchase for me and ship! Not even just him all entertainers! I ain't got the tine posting memes and shit... 'Way too trill for that.'"
While continuing to post disparaging Instagram photos of Meek Mill, 50 Center acknowledged that he would help the city of Flint, in a now-deleted post. "Even a [poop emoji] Head knows we are supposed to help out Flint Michigan," 50 Cent wrote on Instagram Monday. "I'm a ambassador for feeding America, I'm working with the United Nations world food program. I'll find out what are the right organizations to donate to. It's a tax right off anyway (poop emoji) Head."
After removing the post, 50 continued his social media onslaught with a photo of Meek Mill accepting an award for "Most L's Taken 2015-2016." 
"You know you only trying donate so you can try and use it in court (poop emoji) head," 50 Cent wrote under the photo. "You don't have money to give away. When Nikki find out you playing with her boy oh boy your in for it."
The feuding rappers aren't the only entertainers that have been vocal about the Flint water crisis. Pop legend Cher has provided Flint with 180,000 bottles of water. Filmmaker and Flint native Michael Moore has been vocal on social media, calling for the resignation of Michigan Gov. Rick Snyder. 
Detroit native Big Sean and P. Diddy also took to social media to express their concerns. 
"You popping shit on your Instagram, shit that you're popping ain't adding up," Mill, who most recently engaged in a beef with Canadian rapper Drake, rapped in his latest song dissing 50 cent. "Shit that you're popping ain't making sense. I got fifty reasons to say you're taking dick."
50 Cent, no stranger to rap beef, responded the best way he knows how — by taking the feud to social media with a number of vicious Meek Mill disses. 
Here's how to help residents in Flint.