Will 'Mad Max' Win Best Picture?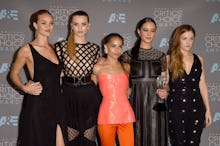 Steve Granitz/Getty Images
George Miller's 2015 reboot of Mad Max: Fury Road, which reimagined the cult films of the late '70s and early '80s, was widely well-received. After its summertime release, both critics and fans hailed the action film a runaway success. The movie earned a 97% rating via Rotten Tomatoes, four out of four from Roger Ebert and an 89% rating on Metacritic. After its release, many saw more power than meets the eye embedded in the dystopian film's plot, particularly for its feminist overtones.
After its release, critics largely agreed on the film's strength. Writing for the New Yorker, Anthony Lane called the action movie "Wild and unrelenting, but also possessed of the outlandish poetry, laced with hints of humor, that rises to the surface when the world is all churned up." The film was also a New York Times Critics' pick, and the publication's May 14 review of the film reads, "It's all great fun, and quite rousing as well — a large-scale genre movie that is at once unpretentious and unafraid to bring home a message."
Yet the question remains — does the Mad Max reboot have what it takes to win best picture at the 2016 Oscars, particularly with its notable lack of dialogue?
Read more:
Of course, the film swaps much in the way of a script for visual storytelling, and many viewers and critics see this as one of the movie's best traits. The reboot also benefits from its star-studded cast, which is made up in part by Tom Hardy as Max Rockatansky, Charlize Theron as Imperator Furiosa, Nicholas Hoult as Nux and Hugh Keays-Byrne as Immortan Joe.
One clue that may help guide predictions about Mad Max's chances at the Oscars could be its track record with awards so far in 2016. The film cleaned house at the Critics Choice Awards show on Sunday night, A.V. Club reported, pulling in a total of nine awards after being nominated for 11 awards in all. Hardy and Theron both took home awards for best acting in an action movie and and George Miller won the award for best director. The film also won accolades for its production and costume designs, editing work and special effects.
However, when it came to the Critics Choice award for best picture, Mad Mad lost to Spotlight.
Yet Mad Max could obviously still win best picture at the Oscars, despite losing the award of the same name at the Critics Choice event. As Los Angeles Times Glenn Whipp pointed out, "Academy members prefer their best picture winners to be about something, even if (especially if?) that subject is themselves," the challenge for Mad Max's creators in the days and weeks before the final votes are tallied is to convince Oscar voters that their film possesses "social relevancy along with considerable craft," according to Whipp.
Ultimately, there's no way to know which film will take home the Oscar before the winner is announced. But it's safe to say that Mad Max is up against some fierce competition to win. Also in the running for best picture is The Big Short, Bridge of Spies, Brooklyn, The Revenant, Room, Spotlight and The Martian.
Here's a full list of Oscar nominees.