This State Bill Would Remove All Religious Education From Tennessee's School Curricula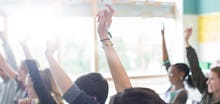 When it comes to religion in public schools, conservative politicians have historically played pretty fast and loose with the separation of church and state. Recently, some suspect Islamophobia has been a motivator for Republican state Rep. Sheila Butt to uphold the constitutional mandate: In October, she introduced a bill to ban the teaching of all religions from Tennessee curricula up to the 10th grade.
The proposed legislation came after parents in White County, Tennessee, protested seventh-grade social studies textbooks they believed unfairly emphasized Islam. And when an evangelical Christian organization distributed bibles in a Bledsoe County school, the state was moved to ban religious materials on school campuses. In light of these tensions, Butt's Senate Bill 1439 has garnered additional sponsors, and made it to the Education Instruction and Programs committee last week.
Butt, who authored the children's book Does God Love Michael's Two Daddies, told the Wall Street Journal her bill was inspired by "constituents who realized that some religions were more heavily weighted in the standards and that doctrine was being taught to junior high students." Mic reached out to Rep. Butt's offices multiple times, but she was not immediately available for comment. 
Though neither Butt nor the legislation's language reveal any religious bias, the support of Citizens Against Islamic Indoctrination speaks for itself. "The problem in Tennessee is the textbooks have a promotional propaganda approach to Islam while treating all of the other religions as second class citizens," spokesperson Steve Gill told Mic. Gill said that the widely used Pearson textbook, myWorld History and Geography: The Middle Ages to Exploration of the Americas, offers 50 pages of information on Islam with only "a handful" devoted to Christianity.
Gill specifically took issue with mentions of the Five Pillars of Islam and verses from the Quran. On pages 86 and 87 of the textbook, he said Islam is presented as being peaceful and tolerant. "There is not a historian, other than an Islamic apologist, who would claim that this is accurate," said Gill. 
"I'd rather us teach religion from a historical perspective accurately and honestly; if we can't do that because of the Islamic influence then we shouldn't teach religion at all," said Gill. "Do I want it to be that our only choices are to not teach anything about any religion or to teach about religion with an emphasis on and promotion of Islam? If that's the only choice, then not teaching anything is better than sacrificing truth and accuracy to advocate an Islamic agenda."
S.B. 1439 still allows for mention of religion within a historical or geographical context, clarifying, "If the curriculum standards in grades prior to grades ten through twelve include a reference to a specific religion or the role and importance of a religion in history or geography, then the state board shall ensure that the reference does not amount to teaching any form of religious doctrine to the students."
There is not a historian, other than an Islamic apologist, who would claim that this is accurate."
Even so, Kristen Amundson, executive director of the National Association of State Boards of Education, told Mic she worries about what would be lost in removing religion from public education. 
"How do you understand what happened in Iran if you don't understand the conflict between Sunni and Shiite Muslims?" Amundson said. "There are parts of history that are very much governed by religion." She speculated that the bill would put some parts of history "off limits," making it hard to enforce.
Amundson, who is sometimes called upon by state legislators to offer suggestions or provide them with insight into how other states are addressing similar issues, said that in the case of S.B. 1439, she would advise lawmakers to tread carefully.
"This is a First Amendment issue," she said. "There's a very long and very clear set of Supreme Court decisions that govern what is and is not appropriate to be taught about religion in the public schools."
Americans have a very robust tradition of having discussions about this issue," she said, adding that she expects to see more legislation like Rep. Butt's to come to the fore. 
"Religion is part of our American story," said Amundson. "That's our history."