This South Carolina Republican Wants to Put All the Journalists in His State on a List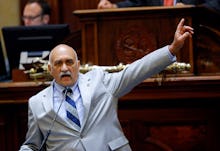 A South Carolina Republican wants to send a signal to members of the press: We're watching you.
On Tuesday, South Carolina state Rep. Michael A. Pitts introduced legislation that would require all journalists throughout the state to appear on a formal registry as well as establish "requirements" as to who may write for media outlets.
A summary of the proposed "South Carolina Responsible Journalism Registry Law" on the state legislature's website says the bill will "establish requirements for persons before working as a journalist for a media outlet and for media outlets before hiring a journalist ... require the establishment and operation of a responsible journalism registry by the South Carolina secretary of state's office ... [and] authorize registry fees."
Most ominously, the legislation would also "establish fines and criminal penalties for violation of the chapter."
It remains unclear what journalistic behavior the law seeks to sanction and how stringent penalties for violations would be — although Pitts hinted at what his proposal tends to accomplish in an interview with the Post and Courier: He proposed the law after seeing biased media coverage of Second Amendment issues in the press.
"It strikes me as ironic that the first question is constitutionality from a press that has no problem demonizing firearms," Pitts said. "With this statement I'm talking primarily about printed press and TV. The TV stations, the six o'clock news and the printed press has no qualms demonizing gun owners and gun ownership."
Meanwhile, the director of the South Carolina Press Association, Bill Rogers, told the Post and Courier that Pitts' bill was, quite simply, "outrageous and unconstitutional." And journalists have also taken issue with the proposal. On Twitter, the Post and Courier's Andrew Knapp suggested it would be a constitutional breach.
Pitts made news last July when, in the wake of a white supremacist terror attack at an African-American church in Charleston, South Carolina, the representative offered a long, impassioned and rambling defense of the Confederate battle flag days before the state legislature voted for its removal.
Pitts did not return several calls for comment from Mic.