Grimes Shares a Bold, Bloody Dance Video for Her Latest Single "Kill V. Maim"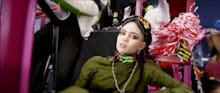 Do not fuck with Grimes.
The electro-pop maven has built her name off of vehemently taking down sexist producers and music industry players. She writes anthems that position her as "being too scary to be objectified," as she described one of the songs off her recent album Art Angels to Fader.
On Tuesday Grimes offered yet another bit of evidence showing the true ferocity hidden behind her high-pitched voice. The video for her song "Kill V. Maim" depicts the artist thrash-dancing through an abandoned subway and cruising through a futuristic city with her cyberpunk posse.
Grimes previously described "Kill V. Maim" as being "written from the perspective of Al Pacino in The Godfather Part 2," according to a Q Magazine interview. "Except he's a vampire who can switch gender and travel through space," she added.
If viewers really use their imaginations to see Grimes as a space-traveling, gender-bent Pacino, they'll see the storyline does work in the video. She sports some vampire fangs in one shot, and everybody gets extraordinarily bloody at the punk rave she throws.
The video is subtitled "Act 3," likely joining the other two videos she's released off the album: "Flesh Without Blood/Life in the Vivid Dream" and "REALiTi." Appropriately, it follows the same logic as most action movies' sequels: Go bigger, bloodier and more spectacular, until your audience just can't take it anymore.
Watch "Kill V. Maim" in full below.