Meet Taina Asili — The Singer Who Just Wrote a Black Lives Matter Anthem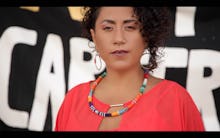 As the daughter and sister of two formerly incarcerated Afro-Puerto Rican men, musician Taina Asili has also been an activist involved in the prisoner justice movement for years. In attempt to proliferate the messages of equality and justice, Asili recently released a powerful new song and accompanying music video, "Freedom," which features Black Lives Matter and prisoner justice activists in an attempt to invigorate and support their work.
"Freedom:" Asili understands the power behind the intersection of music and social activism. Her father and mother — a Latin jazz conductor and salsa and Afro-Caribbean dancer, respectively — also founded the Latin American student union at the State University of New York at Binghamton and organized protest demonstrations influenced by activists like Malcolm X and the Black Panthers, Asili told Mic. 
The musician has built her own robust career of progressive music, even fronting the social justice-focused punk band Anti-Product for eight years. But after recently reading Michelle Alexander's acclaimed and influential book The New Jim Crow: Mass Incarceration in the Age of Colorblindness, Asili felt especially moved to offer a musical contribution to the movement for racial equality and prisoner justice.
"I was floored by how [Alexander] articulated connections to the disproportionate number of black people incarcerated with the history of slavery, white supremacy and racism in this country," Asili told Mic. 
The music video for the song is also part and parcel of this vision. In order to honor Alexander's influence on the song itself, and to connect the video to the work Asili does in her own community in upstate New York, the musician recruited members of the organization Capital Area Against Mass Incarceration and the Upstate New York chapter of Black Lives Matter to film a recreation of a prison justice demonstration.
"Many people who were passing by didn't know we were shooting a music video," Asili said. "They thought we were actually having a demonstration so they were beeping their horns in support, yelling things at us. It really brought us very deeply on film into what we were doing and the message we were actually sending."
Because Albany, New York — the community in which Asili works and where the video was shot — was an important stop on the Underground Railroad, the musician also decided to set her video at some of these stops, like the Stephen and Harriet Myers House. Asili said Michael Reyes, a musician also featured in the song and video, similarly shot his portion of the video at an important Underground Railroad stop in Detroit.
Doing so will hopefully honor "the powerful resistance movement of our past and present," Asili said. "We are literally and figuratively walking the path that our ancestors walked and continuing that legacy of resistance."
Music and #BlackLivesMatter: With her song and video, Asili adds to a growing group of musicians contributing to the Black Lives Matter movement by way of their artistic gifts. Artists like D'Angelo and J. Cole have addressed the concerns and issues at the heart of the movement in their work, and 23-year-old activist and rapper Richie Reseda notably released music tackling police brutality — including the deaths of Renisha McBride, Eric Garner and Trayvon Martin — while in prison, with help from #BlackLivesMatter activists and the label GREEDY City, Mic's Tom Barnes reported in July.
"I think he's an important part of the broader conversation surrounding #BlackLivesMatter," Patrisse Cullors, a co-founder of #BlackLivesMatter, told Mic of Reseda in July. "You have to remember, 1 million black people are living inside of jails and prison, and their lives matter, too."
Facts support these activists' efforts. The U.S. has the highest rate of incarceration in the industrialized world, according to the Sentencing Project, and incarcerates people at a rate six times higher than Canada, England and France. Despite the fact that people of color make up only about 30% of the total U.S. population, 60% of those incarcerated are people of color, according to the Center for American Progress.
Ultimately, Asili — presumably like many other artists addressing the movement through their work — hopes her song and video not only serve as tools "to wake people up to the injustice and racism in the criminal justice system," but also as "a jogging track to keep us energized for the work ahead."