What Is Bernie Sanders' Religion? Inside the Faith of the Vermont Senator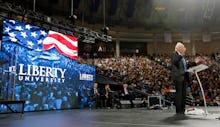 Steve Helber/AP
Ever since Vermont Sen. Bernie Sanders entered the Democratic presidential race, his motives have been clear and resolute — most of all, on the issues of income inequality in the United States. However, one important aspect of Sanders' personal life has been swept under the rug: his religious beliefs. Considering nearly every president in U.S. history has professed Christianity as a held belief, Sanders' religious affiliations hold at least some weight in the political spectrum. 
According to his campaign page, Sanders considers himself a "secular Jew who values and actively engages with people of various faiths for the betterment of society." Being Jewish, he would be the first Jewish president in U.S. history if elected, according to NPR. However, in an interview in June with the Christian Science Monitor, Sanders said he isn't "particularly religious." Rather, his Jewish background demonstrated the heavy influence of politics. 
"A guy named Adolf Hitler won an election in 1932," Sanders said, according to Christian Science Monitor. "He won an election, and 50 million people died as a result of that election in World War II, including 6 million Jews. So what I learned as a little kid is that politics is, in fact, very important."
Instead, he has said his spirituality permeates between several religions. "I am who I am," Sanders said in an interview on Jimmy Kimmel Live, according to the Washington Post. "And what I believe in and what my spirituality is about, is that we're all in this together. That I think it is not a good thing to believe that as human beings we can turn our backs on the suffering of other people."
The Post noted that the response was a clever evasion of a concrete answer, placing an emphasis on poor people rather than his belief in God. This is likely because Sanders is not an active member of an organized religion — something that makes him a black sheep of the election thus far. However, it has not detracted him from the eyes of voters, who are instead more concerned with his background as a socialist. 
Additionally, it has not stopped him from attempting to find common ground with other religious beliefs, namely on the subject of income inequality. In September, Sanders spoke at the highly conservative Liberty University, where he hoped to find common ground with the students in other facets of life.
"Morality is more than just your view on abortions or gay rights," Sanders said after the event, according to the New York Times. "Moral issues are also hungry children. Moral issues is also the state of our planet and climate change."
Ultimately, though, the most impressive aspect of Sanders' presidential bid is that he is a candidate with two red flags — in his religious beliefs and political ideology — and that hasn't stopped him from impressive poll numbers against Democratic frontrunner Hillary Clinton. 
"What's significant here is that we have a viable candidate for presidency who is not only Jewish but has a Brooklyn accent, and it's not a big deal," Rabbi Jonah Pesner, head of advocacy and social justice for the Reform Movement, told the Washington Post. 
"And although he is not a particularly public candidate about his faith, he focuses on issues which resonate with the words of the Hebrew prophets. Many of us find language around income inequality very consistent with our own sense of Jewish social justice."