9 Hit Movies You Didn't Know Started at Sundance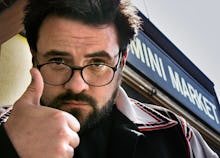 The Washington Post/Getty Images
The 2016 Sundance Film Festival is only days away, and movie-lovers are gearing up for a fresh new crop of indie dramas and gripping documentaries that will have their debuts at the festival. And for some of these films, Sundance will be the launchpad to major Hollywood success — which is exactly what happened to these nine films that became big hits after first screening at Sundance.
1. Little Miss Sunshine, 2006
This indie hit about a dysfunctional family on a road trip to a kiddie beauty pageant first premiered at Sundance, after which it was picked-up by Fox Searchlight. Little Miss Sunshine starred a young Abigail Breslin and Paul Dano. The film went on to win two Oscars, one for best original screenplay and one for best supporting actor for Alan Arkin's performance.
2. Clerks, 1994
Kevin Smith's first film, Clerks, was shot in the convenience store where Smith worked at the time and cost only $27,575 to make. The film's success with the audiences at Sundance reportedly gave it the boost it needed to become a hit: Clerks went on to make $3 million at the box office and became a cult classic.
3. The Blair Witch Project, 1999
The Blair Witch Project was groundbreaking not only for popularizing the "found-footage" horror genre, but also for the viral marketing that creating buzz for the movie surrounding its release at Sundance. The team behind the film reportedly hung "missing" posters around the festival, maintaining the illusion that the film was "real" (which confused audiences for ages). The Blair Witch Project went on to earn almost $250 million worldwide.
4. Super Size Me, 2004
This indie documentary followed filmmaker Morgan Spurlock as he eats only McDonald's meals for a month — "super sizing" his portions whenever the option is offered. Super Size Me premiered at Sundance, where it went on to win an award for Spurlock's directing. The film grossed $22 million worldwide, making it one of the most successful documentaries in history, and, the same year the film debuted, McDonald's announced that it would be phasing-out the "super size" option in its restaurants.
5. Beasts of the Southern Wild, 2012
This 2012 drama set in a fantasy version of Louisiana debuted at Sundance and went on to become a critics' darling and a major player during awards season. Quvenzhané Wallis, the 9-year-old star of Beasts of the Southern Wild, became the youngest nominee for best actress in Oscars' history when she was nominated for her work in the film. Barack Obama named Beasts of the Southern Wild as one of his favorite films of the year in a 2012 interview with People.
6. Hairspray, 1988
John Waters' campy-classic Hairspray was screened at Sundance before its wide-release. The film starred Ricki Lake, Jerry Stiller, Sonny Bono and drag-queen Divine among others. The film inspired a 2002 Broadway musical by the same name and a 2007 remake starring, among others, Christopher Walken, Zac Efron, Queen Latifah and John Travolta.
7. Precious, 2009
Precious: Based on the Novel "Push" by Sapphire had major star power behind it from the start: The cast included Mo'Nique, Mariah Carey and Lenny Kravitz. Oprah and Tyler Perry were among the film's producers. Precious was screened at Sundance, where it won three of the festival's awards. Mo'Nique later won a best supporting actress Oscar for her role in the film. Precious also launched star Gabourey Sidibe's acting career.
8. Reservoir Dogs, 1992
Quentin Tarantino's directorial debut, the bloody crime story Reservoir Dogs, premiered at Sundance in 1992. Tarantino made the film for $1.2 million and it went on to become a classic — turning him into one of Hollywood's most talked-about filmmakers.
9. Man on Wire, 2008
This 2008 documentary told the story of tightrope artist Philippe Petit's 1974 performance on a wire that stretched between the two towers of the World Trade Center, 1,350 feet above the ground. The documentary, from director James Marsh, won the Grand Jury Prize at Sundance and went on to win the Academy Award for best documentary feature. Petit's famous stunt also inspired a dramatized account, the 2015 film The Walk, starring Joseph Gordon-Levitt as Petit.