Is Jon Snow Alive? 'Game of Thrones' 'Maisie Williams Talks Character's Rumored Return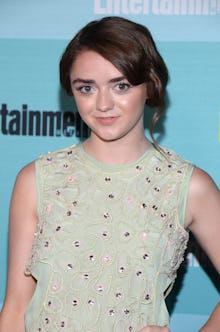 Tonya Wise/AP
There has been much debate as to whether Game of Thrones' Jon Snow is actually dead, or awaiting a major comeback in the HBO show's sixth season. To add fuel to the fire, even the show's stars, including Maisie Williams, have been confusing desperate fans worldwide with contradictory statements. 
The young actress, who plays Snow's half-sister in the hit show, has been touting the character's apparent death as official and done with, telling People in 2015 "there is no hope," Vanity Fair reported in July. "We saw him get stabbed a lot in the chest, like, I think that's pretty clear," Williams told People according to Vanity Fair. 
However, the the star has since changed her rhetoric surrounding Snow's death, recently saying on the London Film Critics' Circle Awards red carpet, "I feel so mean because I speak to people and they're all like 'Jon Snow, is he back?' and it's like really heartbreaking because people are like 'yeah, but he's coming back though?' It's a great twist but I can't say he's going to be alive," according to Vanity Fair. 
So, does Williams know something fans don't? At this point, the beloved Snow's fate is still very much in the air, and HBO's producers have done a concrete job at keeping his possible comeback a surprise. Though it doesn't seem likely the network would entitle one of its fellow stars to leak such information, Game of Thrones did release an advertisement across social media promoting the show's forthcoming sixth season, premiering in April. 
The ad features — who else — Jon Snow:
As Williams has changed her tone surrounding Snow's death from the previous season, her words should be taken with a grain of salt. In fact, it appears fans will only have their collective heart's biggest question answered come April, when Game of Thrones returns for its latest season.