Marco Rubio Attended 4 Different Colleges — Here's Why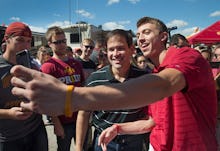 Scott Olson/Getty Images
Like most presidential candidates, Florida Sen. Marco Rubio has an extensive educational background, with both a bachelor's and a J.D. degree. What's distinctive about Rubio's background, though, is the number of colleges he's attended, as he went to four different colleges before it was all said and done. 
The initial college Rubio enrolled with — Tarkio College in Tarkio, Missouri — was in large part because of a football scholarship he had while he was there, according to NPR. Rubio, like many young athletes playing football, had aspirations to play in the NFL. Even now, he's had football-related fun on the Senate floor with the likes of Florida football icons Tim Tebow and Dan Marino. 
Though there are no statistics on Rubio's performance, Heavy reported that the team went 4-5-1 in his only season at the college. In the end, however, it was his wife, Jeanette Dousdebes Rubio, who gained attention in the NFL spotlight, as she was a Miami Dolphins cheerleader for one season. 
"I always wanted to be an NFL player and now I'm going to have to tell my kids that the only one of her two parents that ever touched an NFL field was her mom," Rubio said, according to the Tampa Bay Times. 
After one year, Rubio transferred away from Tarkio College. Shortly after, according to the New York Times, the college filed for bankruptcy. Rubio moved back to his home state of Florida, initially transferring to Santa Fe Community College in Gainesville, before he finished his undergraduate degree at the University of Florida, according to his senator page. 
Rubio's law education was more straightforward — he spent the entire time at the University of Miami's law school. However, like many students attending American colleges, Rubio was stuck with a plethora of student loans to pay off. In a report by Yahoo News in 2012, the senator said he had just finished paying off his student loans when he spoke at an awards dinner. 
"We need to reform our federal college grant and loan programs," Rubio said, according to Yahoo News. "To me college affordability is an issue that is very personal. Because the only reason why I was able to go to college — the only reason — was because of federal grants and loans. But when I graduated from law school, I had close to $150,000 in student debt. That's a debt I just paid off just last year with the proceeds of my book An American Son."
Furthermore, according to a 2013 report by the Huffington Post, 46 members of Congress were still in the process of paying off student loans. It's certainly had an effect on Rubio's presidential bid, as he's emphasized restructuring the current higher education system on his campaign page. 
"Our higher education system is antiquated and broken in multiple ways," Rubio's campaign page says. "It is too expensive, too time consuming, and too inflexible for busy single parents and working adults."