The Oscars 2016 Race Controversy Isn't Just About Black Actors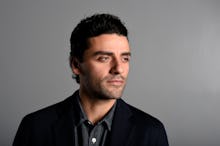 Jordan Strauss/AP
Last week's Oscars 2016 nominations reveal prompted widespread criticism after not a single actor of color was nominated for an award. Several black actors and filmmakers have spoken out about the exclusion of African-American artists among nominees, threatening to boycott the awards show. Lists of actors of color who were snubbed include mostly black people — but the lack of color extends beyond black artists. 
The scarcity of nominated African-Americans has been dominating the Oscars diversity criticism. "For too many years when the Oscars nominations are revealed, my office phone rings off the hook with the media asking me my opinion about the lack of African-Americans and this year was no different," director Spike Lee said when he announced he'd boycott the Oscars. 
Read more:
While the caucasian dominance among Oscars nominees is painfully clear, people have started to speak up about the lack of not only black nominees, but Asian, Hispanic, Native American and other excluded groups as well, who are even less represented among nominees and winners in Oscars history. 
Mashable fashion editor David Yi pointed out on Twitter that while the lack of people of color nominated for an Oscar is "tragic," exclusion of actors of color includes "an extreme lack of Asian and Hispanic faces."
Others voiced similar sentiments.
There have been roughly 50 African-Americans nominated for one of the four major acting categories since Hattie McDaniel became the first black woman to receive an Oscar in 1939, ABC News reported, and the number of Asians and Hispanics nominated is even more underwhelming. 
The lack of diversity among nominees reflects the lack of diversity among Academy members who vote for the nominees. A majority of Academy members are still Caucasian men older than 50, Variety reported, and because membership is based on experience in the industry (and the industry is historically white men) the demographic can't change overnight.
In response to artist's threats of boycotting the Oscars, Academy president Cheryl Boone Isaacs, the first black and third female Academy president, released a statement Monday stating she's "both heartbroken and frustrated" about the lack of diversity among nominees and promised to improve "inclusion in all of its facets: gender. race. ethnicity and sexual orientation."