HBO's 'Vinyl' Tracklist — Full List of All the Music in New HBO Drama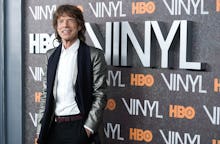 Evan Agostini/AP
New York in the 1970s is calling, and it sounds like Iggy Pop, Led Zeppelin and David Bowie. HBO presents an homage to the scene in its new drama series about a recording label entitled Vinyl, which premieres on Feb. 14 at 9 p.m and stars Olivia Wilde, Bobby Cannavale, Juno Temple and Ray Romano. Its producers include Boardwalk Empire's Martin Scorsese and Terence Winter, as well as Golden Globe-winning musician Mick Jagger — all individuals who are no strangers to the gritty music industry the series aims to illustrate.
"The early 1970s, and 1973 in particular, was a time of great change in the music industry, and it all started in New York City — punk, disco, hip-hop, they all began that year right here in this city," Scorsese told Entertainment Weekly in January. "So we decided to start there and see where it would take us." 
The show, which was almost made into a full-length feature film instead, has been in production for almost a decade, and hedonistically delivers on sex, drugs and rock 'n' roll, Variety reported. Vinyl's soundtrack doesn't skimp on its musical talent either — including tracks and artists from the past and present. 
Read more:
The soundtrack for the show is split into two parts, with Vinyl: Volume I dropping on Feb. 12 and the second volume coming out on April 15, right before the show's April 17 season finale, Indiewire reported. Some artists to expect are Otis Redding, Foghat and David Johansen who has re-recorded New York Dolls hits. Mick Jagger's son James Jagger's band the Nasty Bits are also featured on the soundtrack. 
The theme song "Sugar Daddy" is sung by award-winning country artist Sturgill Simpson, Indiewire reported.
HBO will also release a digital EP featuring the songs used in the show, which are usually by more current artists, such as Charli XCX, Trey Songz and Julian Casablancas.
"I own so much vinyl," Scorsese told Entertainment Weekly, adding that he often uses them in his movies. "78s that I collected and that my uncle had, and 45s and LPs. I think I probably have some very rare 45s that I bought when I was young." Vinyl is making a comeback, after all.
Below is the full track list for Vinyl: Volume I, from Indiewire:
1. "The World Is Yours" by Ty Taylor