Why TV Star Turned Film Lead Brie Larson Should Win Best Actress at the 2016 Oscars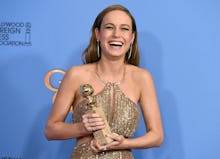 Jordan Strauss/AP
Actress Brie Larson is currently at the top of the film world, receiving an Oscar nomination for best actress Thursday. The 26-year-old Larson has been working in television since 1998, appearing in sketches on the Jay Leno Show.
However, as the star of Amy Schumer's comedy Trainwreck and the drama-thriller Room, Larson has only recently become a recognizable name in film. Fresh off a Golden Globe win for her performance in Room, the actress seems poised for the 2016 Oscar for best actress.
As the lead actress in the 2013 film Short Term 12, Larson played Grace, the supervisor of a home for troubled teenagers, in her breakout performance. The young actress also appeared in the 2010 comedy film Scott Pilgrim Vs The World and 2012 action-comedy film 21 Jump Street. 
Room, which is nominated for an Academy award alongside Larson, won the People's Choice award at the Toronto film festival. 
According to awards prediction site GoldDerby, which compiles the predictions of media experts, Brie Larson is the No. 1 choice to win the award for best actress. Larson leads the pack with 86% of the expert prediction, with Brooklyn star Saoirse Ronan at 9%. 
Many believe that the Golden Globes are an accurate predictor of Oscars winners. According to FlavorWire, Larson has a pretty good chance of winning the Oscars. The website found that over the last 10 years, 90% of the past Oscars winners for best actress won a Golden Globe beforehand. 
Larson has no shortage of supporters on social media. 
Larson's performance in Room may be worthy of an Oscar performance, but this will be her very first nomination. Jennifer Lawrence, best known for her role as Katniss in the Hunger Games films, will be gearing up for her fourth Academy nomination. Lawrence previously won an Oscar for her performance in the 2012 film Silver Linings Playbook. 
The Oscars will be held on Feb. 28 at the Dolby Theatre in Hollywood, California.