We Talked to 6 Couples About Why They Want a Weed-Friendly Wedding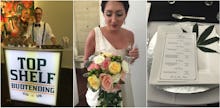 For those engaged couples looking to say "high do" to weed-friendly weddings, look no further than the first ever Cannabis Wedding Expo, which was held in Denver on Jan. 17. The expo was brimming with young couples in love, both with each other and with marijuana. Appropriately sponsored by 4/20-friendly "cannabis event guide" Love and Marij, the event featured everything from custom budtending services to weed catering companies helmed by former Top Chef winners. 
Mic spoke to several couples at the expo to find out what kind of people would choose to have a weed-friendly wedding. From hardcore growers to the occasional smokers who just prefer weed to booze, here are the couples on the forefront of the cannabis-friendly nuptials trend.
Jamie and Megan
Before they got engaged, Jamie and Megan weren't thinking much about what they wanted to serve at their wedding. But when they saw an ad for the expo, they were intrigued. "We realized it was an option and it just made sense for us," Jamie said.
The couple wants to get a budtender, someone who helps select strains before the event, brings smoking apparatuses and serves to guests to make sure they enjoy responsibly. Budtenders also ensure that the wedding cannabis experience is safe and above the board. Many of the couples we spoke to were planning on hiring budtenders to regulate consumption and help newbies get the most out of their wedding high.
Both Jamie and Megan think their families would be "really cool" if the wedding served MJ instead of a few stiff drinks. "It's a safer alternative to alcohol," Jamie said. 
Justice
Justice — "like the Pledge of Allegiance," she told Mic — and her fiancé are getting married on 4/20/16, after planning for the ceremony for almost a year. As Justice explained that the couple had traveled from Redding, California to Denver for the expo, her fiancé, who was more than comfortable to let his beloved do the talking, just nodded, smoked and laughed. (Through his giggles, he declined to tell Mic his name.) 
The couple will get married in Portland, Oregon because, as Justice puts it, the laws in California are "all fucked up." (Only medical marijuana is currently legal in the Golden State.) They're growing all of their own cannabis for their big day. Justice is also collaborating with a designer to come up with looks for her wedding and reception dresses, both of which have custom embroidered pot leaves all over the front. 
"I'm actually having another dress for the reception made with pot leaves all over the front. It's a little bit shorter and flowier, meant for the partying part of it," Justice told Mic. 
Justice's dress is just one of the many unique elements of their wedding. "We got a custom bong and a custom dab rig [a modified bong designed specifically to smoke concentrates]," she told Mic. "It's a cookie monster inside of a milk carton dab." The couple is also giving out customized lighters to guests. "Mine is a hammerhead shark, with a sea turtle and a wolf, and it has our names and date on it. It's really amazing."
JJ and Jamie
JJ and Jamie said they started considering the possibility of a wedding featuring cannabis when they moved to Colorado a few years ago. 
"Our eyes were opened and it just seemed like a really cool option," JJ told Mic. 
"It's very us," echoed Jamie.
After getting engaged a few months ago, the two decided to come to the expo to start their wedding planning off with a bang. At this point, they're open to offering their guests joints, rolled cones, vaporizers, dab rigs and whatever else might be the best way to help their out-of-town guests get the full legalized marijuana experience.
Ashley
Ashley has been engaged to her groom-to-be since October 2014 and plans on serving both alcohol and cannabis at her wedding. And while most couples avoid serving edibles at their wedding for fear of party-hardy guests' overindulging, Ashley also plans to serve edibles like brownies, cookies and maybe even cake to her guests. 
Ashley is confident her wedding will go smoothly because her planner is Bec of Buds and Blossoms, who Ashley told me is considered a sage in the cannabis wedding-planning community.
"I'm excited to serve cannabis because it's something that not a lot of people get to enjoy. Our families are from both sides of the country, so this will be a whole different kind of experience for them," Ashley told Mic.
Christian and Anna 
Christian and Anna haven't set a date yet, but Christian said when they saw an ad for the expo, they knew they had to attend. Marijuana is a part of their lives, and Christian said it would feel almost disingenuous to honor their nuptials without some Mary J. 
"I feel like if you smoke cigars, and you couldn't smoke a cigar at your wedding, it would suck," he told Mic.  
Christian isn't worried about his family's reaction to his weed wedding. He said that the world at large has gotten a lot more accepting of marijuana consumption since he first started smoking weed. "When it's not illegal, people stop caring," he told Mic.
Angie and Nathan
Angie and her new fiancé Nathan don't like to drink and they both smoke weed to relax, so it just made sense for them to commemorate their marriage with some smoke.  Like Christian and Anna, they haven't talked to their families about it yet, but they think it'll be fine. 
At the expo, Angie and Nathan met with all sorts of vendors to explore a variety of possibilities for their wedding, including serving cannabis-infused beverages and putting out-of-town guests up at BudandBreakfast.com (basically a weed-friendly AirBNB). They even entered a raffle to win a custom two-sided unity bong, so instead of pouring sand into the same glass at their wedding, they'd smoke from the same bong.
When asked if her family members would partake in the festivities, Angie was optimistic. 
"You know, it's not pushed on anyone. It's our day, so if it's what we choose to partake in, I feel it's okay. Hopefully, they'll support that," Angie told Mic.
*First names have been used to allow subjects to speak freely on private matters.