George Clooney Says Black Actors Have a Point About Oscars Lack of Diversity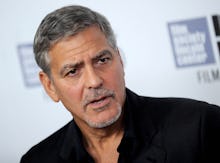 Dennis Van Tine/STAR MAX/IPx/AP
George Clooney may not be boycotting the 2016 Oscars, but he does agree that the Academy has a race problem. In an interview with Variety, "Hollywood statesman" Clooney weighed in on the lack of diversity among the 2016 nominees, a perennial problem that's prompted a resurgence of 2015's #OscarsSoWhite. According to Clooney, the racial imbalance within the Academy comes down to an absence of roles for black actors, a pattern he said has become particularly evident over the past decade.
"I don't think it's a problem of who you're picking as much as it is: How many options are available to minorities in film, particularly in quality films?" the actor told Variety. "We should have been paying attention long before this. I think that African Americans have a real fair point that the industry isn't representing them well enough. I think that's absolutely true."
Clooney went on to name a number of films and actors snubbed by the Academy, arguing that the industry has taken steps backward when it comes to racial and gender equality. 
"We need to get better at this," he concluded. "We used to be better at it."
Since nominations were announced on Thursday, Jada Pinkett Smith and Spike Lee have declared an Oscar boycott. Selma actor David Oyelowo, who was not nominated for his 2014 role as Martin Luther King Jr., said Monday that the Academy — of which he is a member — reflected neither him, nor its president, nor the country. And on Friday, Straight Outta Compton producer Will Packer posted a lengthy note to Facebook, in which he called the industry's failure to recognize projects made by minorities "embarrassing." 
"We need more content produced by, written by, directed by and featuring filmmakers and actors of color being given the greenlight," Packer wrote. "Although there were multiple performances and films that existed this year(and were overlooked), we still need more."
Cheryl Boone Isaacs, the president of the Academy of Motion Picture Arts and Sciences, agreed. In a statement issued on Monday evening, Isaacs said "I am both heartbroken and frustrated about the lack of inclusion. This is a difficult but important conversation, and it's time for big changes." As such, the Academy will be re-evaluating its membership and taking steps to make it more diverse, starting immediately. 
"Change is not coming as fast as we would like," she said in her statement. "We need to do more, and better and more quickly."
And there's certainly a lot to do. As Clooney pointed out while speaking to Variety, Hispanic actors are also underrepresented within the Oscar nominees. Asians and Native Americans, too, are among the many groups that receive little to no attention from the Academy. 
Which is why April Reign, the woman behind #OscarsSoWhite, doesn't think Boone Isaacs will see much success from her call to up diversity within the Academy.
"She is fighting an uphill battle," Reign told TheWrap. "She is one person and she may be battling against an Academy that we know is 94 percent white, that is over 70 percent male and has an average age of 63....It's a concern that doesn't just affect black people, but affects everyone because we all should want to see diversity and inclusion and stories that make us think, stories that make us laugh and feel, and those are not particular to a specific race."