Bernie Sanders Just Opened Up His Most Massive Lead Yet in New Hampshire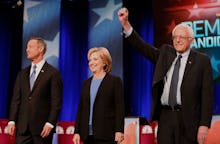 Sen. Bernie Sanders (I-Vt.) heads into the final stretch before the first nominating contests with a massive lead in New Hampshire, besting Hillary Clinton by a whopping 27-point margin.
That's according to a CNN/WMUR poll released Tuesday evening, which finds the surging Democratic presidential hopeful nabbing 60% support to Clinton's 33%, with former Maryland Gov. Martin O'Malley far behind at 1%. Last month, Sanders led Clinton by a much smaller margin, 50% to 40%. 
"This poll suggests that our campaign has real momentum and that the American people want to go beyond establishment politics and establishment economics," Jeff Weaver, Sanders' campaign manager said in a statement about the results. "But it's just a poll and we take nothing for granted."
The numbers behind the numbers: Sanders' surge is powered by his overwhelming popularity among likely Democratic voters. Ninety-one percent said they held a favorable view of the senator, while just 7% viewed him unfavorably. Clinton's favorability rating stood at 65%, down from 74% in June, while her unfavorability rating has ticked up from 19% to 26% during that time period.
The survey shows Sanders with a large advantage on two key metrics. By 58% to 33%, New Hampshire Democratic voters say Sanders, rather than Clinton, most possesses "the personal characteristics and qualities" needed in a president, while voters say 57% to 33% that the progressive populist Sanders is the candidate best-equipped to handle the economy.
The former secretary of state, meanwhile, is seen as the strongest candidate to take on the Islamic State terrorist group, also known as ISIS. Fifty-five percent of voters said Clinton could best handle ISIS, compared with just 26% who named Sanders.
With three weeks to go until the Feb. 9 primary, the numbers may yet change again: Only 52% told pollsters their minds were firmly made up, while 23% said they were leaning toward a candidate and 26% were still in the process of deciding.
The CNN/WMUR poll is by far Sanders' strongest showing to date. Most recent polls in the Granite State show Sanders ahead by margins in the mid-single-digits to mid-teens. At any rate, it suggests that Sanders is well-positioned to capitalize on any momentum he has coming out of the Feb. 1 Iowa caucuses. The latest surveys suggest the race between Clinton and Sanders is effectively tied in the Hawkeye State.