Dirty Projectors' Amber Coffman Says "Very Popular" Music Publicist "Rubbed My Ass"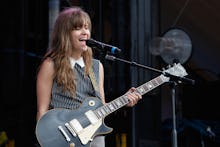 Taylor Hill/Getty Images
Vocalist Amber Coffman, of the Brooklyn, New York, band Dirty Projectors, took to Twitter on Monday to describe an encounter with a "very popular music producer" whom she said "RUBBED my ass and BIT my hair at a bar a couple years ago." In a series of tweets, Coffman added details before identifying the publicist as "Heathcliff Berru, at Life or Death PR and MGMT."
Within hours of Coffman's initial tweets, other women in the music industry had tweeted their support and alleged similar experiences with Berru. Among those who responded was Beth Martinez, a female music publicist, who tweeted out, "Can verify this from personal experience."
Martinez then went on to say "he repeatedly put his hand down my shirt while driving me home after I told him to stop many times."
On Tuesday, Coffman tweeted out a message of thanks for the support she had received on social media and said, "I now wish I had said more sooner."
Billboard identified Berru as the "founder of Life or Death PR and Management" and reported that, on Tuesday, Berru announced his resignation from the company following Coffman's tweets.
According to the company's website, Life or Death PR represents, among other artists, Joey Bada$$, Kelela, Of Montreal, Tyler the Creator and Wavves.
As of Tuesday evening, Berru hadn't been active on Twitter since before Coffman's initial tweets, but Billboard reported that a statement from Life or Death PR and Management announced "Life or Death has a zero tolerance policy for the type of conduct alleged in today's on-line postings. We take these allegations very seriously .... We are grateful to Heathcliff Berru for all the work he's done to date and his creative vision at the company. We appreciate and support his decision to step down as CEO of Life Or Death."