Gunmen in Suicide Vests Raid Pakistani University, Killing at Least 30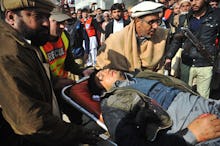 Gunmen raided Bacha Khan, a university in Charsadda, northwest Pakistan, at 9:30 a.m. local time, firing at staff and students — who were preparing for a poetry recital — and detonating explosives, killing at least 30 people and injuring dozens more. 
The death toll continues to rise and is likely higher than initially reported numbers, the Guardian reported.
The four suspected attackers capitalized on a thick, morning fog — the reduced visibility initially worked to their advantage, but armed and trained campus security guards, who knew the grounds more intimately, were able to gain control of the situation, ending the attack after about three hours, the BBC reports. The four suspected attackers were killed.
The alleged attackers were all wearing suicide vests, the Guardian reports. 
"I personally heard two explosions," an eyewitness told Geo TV, a Pakistan network, according to BBC. "We don't know if they were suicide bombers or grenades. I personally saw two explosions and smoke was rising."
Umar Mansoor, largely credited with orchestrating a devastating attack on a school in nearby Peshawar in December 2014, which killed more than 150 people including 144 children, and a member of Tehreek-i-Taliban Pakistan, the country's wing of the Taliban terrorist network, took credit for Wednesday's attack with a post on Facebook, one of the country's biggest newspapers, Dawn, reported. 
According to the BBC, Mansoor claimed the attack was in retaliation to the Pakistani military's aggressive campaign against Islamic militants in the past year, who had largely overrun the northwestern frontier, bordering Afghanistan, before military pushback — an offensive, which at first successful, appears to be unraveling by the day.
However, TTP spokesman Mohammad Khorasani later denied his organization had any involvement in the attack, adding those who suggested otherwise would face retribution.
"We are determined and resolved in our commitment to wipe out the menace of terrorism from our homeland," Pakistani Prime Minister Nawaz Sharif said in a statement, according to Reuters.
Correction: Jan. 20, 2016