This Designer Got Revenge on the Guy Who Ghosted Her by Making a Badass Clothing Line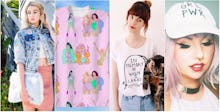 Falling in love for the first time is a quintessential human experience. So is being ghosted.
For Nicole Leth, those formative experiences came in quick succession, when she dealt with her first big heartbreak at age 18. The heartbreaker was an older "punk bad boy skater" from her Catholic high school that she'd had a crush on long before they even dated. "I just thought he was the coolest, hottest guy ever," Leth told Mic. He was her first serious relationship.
It had been about four months when, out of the blue, he ghosted on her without a word and stopped returning all of her messages. After about a week of silence, she saw him with another girl at the coffee shop where they'd had their first date. Leth was devastated, getting closure via a long text message that summed things up: "I just don't like you and I'm with this other girl now."
As a freshman at the Kansas City Art Institute at the time, Leth channeled the heartbreak into art — specifically, a fashion collection. She wasn't even a design student, she said. "I was in the fiber department, so we were working with fabrics and dyeing and surface design ... [but I] started adopting some of the techniques we were learning." She had a vision for a clothing line that would not only give her an emotional outlet, but empower her and other young women. 
The name? Sex + Ice Cream.
Breakup art is not a new concept, but Sex + Ice Cream is particularly fun and relatable, with empowering messages aimed specifically at young women. The doodled dresses feature hearts, clouds, cacti and slogans like "Clothes Before Bros," "GRL PWR," and a headstone print emblazoned with the message "In Memory Of When I Cared." 
Even choosing the name for the line was an empowering act for Leth — a fun-loving "screw you" to her ex.
"Every time we'd have sex, we'd eat a pint of ice cream after," said Leth. Working through her feelings in the breakup aftermath, she said, "I kept thinking about that one thing: I needed to name my brand something, a shout-out to him. But I wanted it to be me taking ownership of that idea and saying no, sex and ice cream is something that is mine, and I can have it all on my own. Now it's just something that I think of in an empowering way."
It's that encouraging message of feel-good independence, delivered with no subtlety whatsoever, that Leth wants to communicate to other young women. Her latest line of items is called "Internet Crush," she told Mic, and includes a pastel t-shirt with Drake's face on it. 
"His music was just making me feel better about a lot of stuff, so I decided to make a series of shirts dedicated to these musicians I was a superfan of," she said. Other designs include a just-released Nicki Minaj and Beyoncé shirt featuring the stars flipping the bird and striking various diva poses.
In typical millennial fashion, Leth is as open about her personal life online as she is with her clothing, using her Instagram to share the origin of Sex + Ice Cream, her boy problems and her struggles with self-esteem. Her selfies, bubblegum pink lipstick, platinum-and-blue dyed hair and body positive mantras invite a flurry of messages every time a photo goes up, often from young girls asking for advice or telling Leth how much she inspires them.
"It's always super meaningful for me to post a story and have people coming back and [message] me that it helped them," she said. "I'm helping people by the shitty things that I've gone through and maybe making it one less shitty thing that they'll have to go through in their own lives."
She's also been leading self-empowerment workshops and talks for young women in her hometown of Des Moines, which included an activity where girls made shirts by filling in the slogan "I am more than ____."
Is it a little angry? Only in the funnest, "screw you" way possible, inviting girls to channel their inner Nickis and Beyoncés when considering those who have done them wrong. It's a message that's resonating, as are the candy-colored clothes. 
After graduating art school in June 2015 — with a senior thesis collection called "Everything I Should've Said" — Leth made her way to Los Angeles and began selling Sex + Ice Cream in a series of pop-up shops. Just this month, she signed a lease on a brick-and-mortar storefront in Kansas City, set to open this spring.
"It will be a crazy colorful storefront, and I'm going to try to transform the store area as much as I can," said Leth. "People will be stepping into my world — my diary, completely engulfed by all these things that make up my clothes and my brand and what I talk about. I'll have my sewing machines there, creating new pieces in the space as well."
Oh, and one more important detail: "For the opening I want to have ice cream there, of course."