Men Dominate Media Coverage of Reproductive Rights, According to a New Study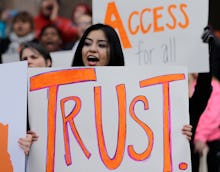 Women in the United States are well aware of the control men wield over their reproductive rights. Male politicians have passed restrictive legislation and made seemingly endless ignorant comments about women's bodies for years. Now it turns out men even play a critical role in how these actions are translated to the public: Male journalists dominate news coverage of reproductive rights, according to a new Women's Media Center study released Tuesday.
Who frames the issue matters: Men don't just disproportionately report on reproductive rights, the study found, but were also disproportionately called upon to weigh in on the topic as sources. Male journalists wrote 52% of articles focused on reproductive issues while female journalists wrote just over a third (and 11% did not include bylines), and while women accounted for about a third of sources included in these articles, 41% of all quotes in these pieces were attributed to men. 
"Reproductive health, rights and choices are fundamental and inescapable parts of women's lives," Julie Burton, president of the Women's Media Center, told Mic. "Yet, our study shows that women often are left out of the discussion. Women — who are 51 percent of the population — only wrote slightly more than a third."
"Since women play a greater role in reproduction, it would make sense for women to be the majority of the sources and authorities in its coverage," Women's Media Center co-founder Gloria Steinem concurred in a statement about the report.
The study, which examined 1,385 news and opinion pieces about reproductive rights published between Aug. 1, 2014, and July 31, 2015, in 12 high-circulation sources, found that some publications accounted for this issue better than others. Male and female journalists reported on the topic in near equal numbers for the New York Daily News, and women did so more often than men for USA Today and the Washington Post. But many others, including the Los Angeles Times and the Chicago Sun-Times, skewed male, and men filed reproductive rights-related stories nearly twice as often as women at the New York Times and the San Jose Mercury News.
Deeper implications: Men not only dominated overall coverage of this topic, however, but were specifically over-represented in terms of the intersection of reproductive rights and political coverage. According to the study, 57% of election coverage related to reproductive rights was reported by male journalists.
Given the current political landscape of the United States in regards to reproductive rights, political coverage of the topic is crucial. States have adopted 288 abortion restrictions since 2010, according to the Guttmacher Institute. Legislators have made countless attempts to pass other reproductive rights-related restrictions and to attack organizations devoted to women's reproductive rights in 2015. Political figures have notably omitted discussions of reproductive rights in public addresses and debates. Especially leading up to the 2016 election, Burton said the way in which this topic is presented to the American people can potentially be hugely informative.
"Reproductive freedom will almost surely be an issue in November's presidential election," Burton said. "The outcomes of these ballot-box choices significantly impact not only public health — but also women's health. Yet, our study shows that in articles about elections and reproductive issues, men's voices prevail."
This report also underscores other realities of systemic sexism beyond reproductive rights coverage itself. For instance, the gender gap in this coverage fits with findings that men still dominate newsrooms altogether. According to a 2015 Women's Media Center report, men still generate 62.1% of all print news in the most widely circulated newspapers and wire services.
This dominance, and its ensuing effects on coverage, can result in a media landscape that fails to reflect women's actual experiences, which, in turn, can have negative impacts. Studies show time and again that media representation particularly matters for women, and can affect especially young women's self-conception in a very real way.
As Burton concluded, "For media to be accurate, informative and credible, it must ensure that all stories, voices, opinions and perspectives are included in the conversation."
Editor's note: Julie Zeilinger is also employed by the Women's Media Center, but she was not involved in this study's research.