CNN to Hold Democratic Town Hall 1 Week Before Iowa Caucus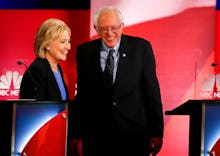 Stephen B. Morton/AP
A clear winner in the race to win the Democratic presidential nomination is looking less evident as Vermont Sen. Bernie Sanders continues to close the gap on frontrunner and former Secretary of State Hillary Clinton. As the need to win voters' favor intensifies, Sanders, Clinton and the third remaining candidate, former Maryland Gov. Martin O'Malley, will meet Monday for a town hall in Des Moines, Iowa, where Democratic voters will have a chance to question the candidates.
CNN has partnered with the Iowa Democratic Party and Drake University to host the two-hour event, which will begin at 9 p.m. Eastern, and network anchor Chris Cuomo will host. 
The time and the location of the town hall is no happy accident, as voters in Iowa will caucus on Feb. 1. 
Read more:
"With this event airing just one week before the first-in-the-nation Iowa caucuses, it's an incredible opportunity for Iowans to see our candidates detail their plans to move our country forward and their vision for Iowa and the nation," Iowa Democratic Party chair Andy McGuire told CNN. 
In Iowa, Sanders has nearly closed the gap entirely on Clinton's lead, according to the most recent Des Moines Register/Bloomberg poll, which found 42% of Democratic voters in Iowa support Clinton, compared to 40% who support Sanders. Elsewhere, a poll from nonpartisan research company Gravis Marketing found Clinton's lead is more pronounced in Iowa — she's polling at 57% compared to Sanders' 36%. 
And according to a national poll Tuesday from Monmouth University, Sanders has continued to gain speed, and now has 37% of Democratic voters' support, compared to Clinton's 52%.
Monday's town hall comes amid continued questions about the relative scarcity of Democratic presidential debates in the lead-up to the general election Nov. 8. The Democratic candidates have debated four times and will meet twice more. By contrast, the GOP candidates have met six times to debate and will gather six times more to face off before voters before Election Day, according to Election Central. 
Questions are also being raised about the timing of the Democratic debates, which have pulled comparatively lower viewer ratings than the GOP's. The Democrats gathered most recently Sunday during the long weekend, and, before that, they debated on Dec. 19. 
Yet it could be that a closer race is drawing more voters' attention to what the candidates have to say. According to the New York Times, Sunday's debate drew north of 10 million viewers, which is the highest ratings a Democratic debate has pulled so far in this election.