Leonardo DiCaprio Slams World Oil and Energy Leaders for "Corporate Greed"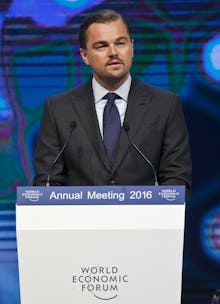 Michel Euler/AP
During a speech at the World Economic Forum in Davos, Switzerland, on Tuesday, actor and environmental activist Leonardo DiCaprio condemned the greed of coal, oil and gas industries that he said have the ability to determine humanity's fate for the worst if we allow it. 
"We simply cannot afford to allow the corporate greed of the coal, oil and gas industries to determine the future of humanity," he said during a fiery two-minute speech in solidarity with President Barack Obama's and many scientists' argument that climate change is a threat to the economy and humanity that can no longer be ignored. 
Echoing Obama's mission to end our dependency on fossil fuels, DiCaprio asserted that "our planet cannot be saved unless we leave fossil fuels in the ground where they belong." 
DiCaprio urged the vitalness of sustaining our complex ecosystems, the "foundation of our global economy and "interconnected climate," adding, "life without them, as we know it, would simply collapse."
He also announced that his self-named foundation, "dedicated to the long-term health and wellbeing of all Earth's inhabitants," is donating $15 million worth in a new batch of grants to aid environmental protection, according to Business Insider. 
During Obama's last State of the Union address earlier this month, he promised to alter the nation's dependency on fossil fuels for energy, and on Friday, the Interior Department announced an embargo on new leases for coal mining on federal land. 
"Given serious concerns raised about the federal coal program, we're taking the prudent step to hit pause on approving significant new leases so that decisions about those leases can benefit from the recommendations that come out of the review," Interior Secretary Sally Jewell said in a statement. "During this time, companies can continue production activities on the large reserves of recoverable coal they have under lease, and we'll make accommodations in the event of emergency circumstances to ensure this pause will have no material impact on the nation's ability to meet its power generation needs."