Serena Williams Lets Us In On the Beauty That Are Nike's Black History Month Sneakers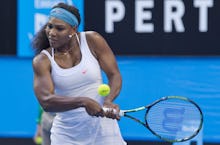 On Tuesday, tennis megastar Serena Williams took to Instagram to officially announce her latest partnership with sports apparel giant Nike for a brand new sneaker. The high-top kicks are interestingly textured with a bright yellow "swoosh" — but best of all, they come with an important message. 
Since 2005, Nike has rolled out an annual collection of sneakers and apparel for Black History Month, which the United States celebrates every February. This year, Williams is among four black athletes to inspire the latest collection, along with Olympic athlete Sanya Richards-Ross and basketball stars Kobe Bryant and Chris Paul.
The four pairs of sneakers are all adorned with a unique graphic print, which spans across the entire 28-item, limited-edition collection. According to a Nike press release, the collection's "distinctly global sensibility is reflected in a vivid Pan African-inspired color palette, with custom geometric motifs."
In addition to the Serena high-tops, the collection includes tennis, basketball, football, running, Nike iD and Jordan sneakers, plus hoodies, T-shirts and shorts.
Since its launch more than ten years ago, Nike's Black History Month collection has provided financial support to several charities benefitting African-American children. This year, the collection gives to Nike's Ever Higher Fund, which helps bring mentorship and sports to the black community.
And if they needed another way to get people excited about it, Williams is the way. She's long partnered with Nike to begin with, with an extensive activewear line with the company, along with several different sneakers created in her honor. Now, given her many titles and recent embrace by the fashion world (including being accepted as a fashion designer herself), it makes sense to give her the nod.
Plus, these Black History Month shoes are presented alongside a yearly celebration of black excellence and accomplishments, something Williams knows a whole lot about.
Items will be trickling into stock from now through February on Nike's website and wherever its apparel is sold, the company states. But the line is sure to be quick to sell out since, after all, don't we all wish we had a little bit of Serena with us wherever we go?