Scott Disick Makes Less Than Kendall for an Instagram Post, Because We Want Her Life More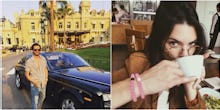 People griped and groaned when Instagram started incorporating advertisements into our feeds back in 2013. But really, we're fed a lot more ads than we realize on the addictive platform, because they most often come in the form of celebrity product placement.
That's the distressing reminder that emerges from Jezebel's recent reporting on celebrity product shilling on social media, which investigates how much stars are paid by companies to promote products online. We already knew it was big business for the likes of Kim Kardashian West and models like Gigi Hadid. But even B- and C-list celebs of reality TV fame — yes, including Scott Disick — are raking it in, often simply for holding up a product and tagging the brand.
Jezebel reports that Disick commands $15,000 to $20,000 for a single Instagram post. Meanwhile, Kendall Jenner can earn between $125,000 to $300,000 for a post.
That fee may seem crazy, but it's based on what we know Instagram is all about: lifestyle. Yes, Jenner has far more followers on Instagram — nearly 50 million to Disick's 13.4 million. But she also puts forth an enviable, appealing and just-quite-but-not-really attainable image over social media that young people want for themselves.
 Want to dress like Kendall? She wears Ugg boots, just like you, but makes them look glam. Want to step up your travel clothing game? She's just as exhausted as you at the airport, but looks 15 times more fabulous doing it. Want a closet of brand-name goods like Kendall? Check out the app she's using herself.
Jenner is one of the Insta-heroes who peddle near-perfection to legions of admiring fans who aspire to a life — from body to skin to hair to closet — just like hers. Which is why she's the ideal person to peddle actual products and get paid like crazy for it: The more we lust after someone's life, the more power they have to sell us stuff.
As one Cornell economics professor put it, "What makes these endorsements in many cases more successful is the fact that the advertisement is showing up on an individual's news feed through an account that they voluntarily follow."
The more Jenner embodies a life we actively want, the more we'll be seeing products and special discount hashtags littering her feed and others. Disick may land a few $15,000 deals based on his love of luxury cars and watches. But it's all cast in that douchebag glow few of us truly aspire to, while Jenner tantalizes us with her happy #squadgoals, perfect makeup and sick accessories. 
Ka-ching.
h/t Jezebel