Portland Community College to Recognize White History Month — But It's Not What You Think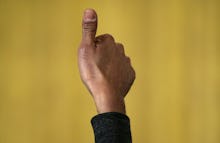 It's almost Black History Month, which means time for at least one of your white Facebook friends to ask, publicly and without a hint of irony, "How come there's no White History Month?"
There's good news and there's bad news for them in 2016. The good news is, Portland Community College in Portland, Oregon, will commemorate a "Whiteness History Month" in April. The bad news? It's an "educational project examining race and racism through an exploration of the construction of whiteness, its origins and heritage," according to the event's website. 
It's like white people can't even celebrate being white in peace anymore.
The event emerged from what organizers saw as a major need at their college. "At Portland Community College, evidence from hiring data, student-­led research, surveys, focus groups, college-wide emails and other sources have illuminated the underlying reality of whiteness embedded in the overall college climate," a passage from the event's website reads. "[PCC's] strategic plan calls for 'intentional action' to 'create a nationally renowned culture for diversity, equity and inclusion.'"
In other words, this is not a chance to wear boat shoes, eat mayonnaise and celebrate the principles of Reaganomics. "Whiteness History Month project ... is not a celebratory endeavor," it reads, "it is an effort to change our campus climate."
The event will take a multidisciplinary approach to activities, including "presentations, lectures, panel discussions, film and music analyses, workshops, plays [and] art." Whiteness History Month is a project of PCC's Cascade Campus Diversity Council, which has been collecting recommendations for the event since October.
The event comes at an especially volatile time for race relations on college and university campuses. Since October, schools across the U.S. have been rocked by protests responding to the lack of racial diversity and other systemic disparities that marginalized students say have made some campuses a hostile environment.
This was perhaps best exemplified by the University of Missouri, where a hunger strike and campus-wide protests led to the resignation of former University of Missouri system president Tim Wolfe on Nov. 9.
Many of these protests — from Mizzou to Yale University to Claremont McKenna College and back — have included demands issued by activist groups to school administrators. According to a statistical analysis by FiveThirtyEight, 35 of 51 schools where protests took place and demands were issued received calls for diversity training for faculty and students.
PCC aims to fill that void. Of course, it hasn't taken long for backlash to start pouring in, with conservative outlets like Campus Reform claiming the event amounts to "whiteness-shaming." But organizers frame it as an opportunity to "inspire innovative and practical solutions to community issues and social problems that stem from racism," according to the site.
Portland Community College has 90,000 full-time students. In the 2013-14 school year, the last year data was available, the student body was 68% white, with an average age of 32.
h/t Independent