5 Planets Will Align for the First Time Since 2005. Here's How to Watch and When.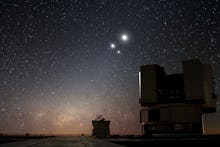 Creative Commons
The early bird gets the worm — and quite the cosmic display, at least for the next few weeks. Mars, Mercury, Saturn, Jupiter and Venus will all illuminate morning skies around the world beginning Wednesday, a performance that will last a full month. It's the first time in over a decade that the brightly lit planets will be perfectly aligned for the viewing pleasure of Earthlings everywhere — the last time such a display occurred was in 2005. 
Experts say the planets aligning perfectly in the sky doesn't mean much for science, but instead is just a coincidence created by each of the planets' similar orbits in the Milky Way galaxy, according to the Weather Network. 
However, in order to catch the alignment in its prime viewing, be sure to check the dawn's skies at least an hour before the sun rises. "With conditions just right and nothing bright around to spoil your night vision, you should see five bright lights, all lined up in a nice row, stretching diagonally across the sky," the Weather Network reported Tuesday.
Regardless, the view will surely be a sight to see for those who can wake up early enough to catch the display. Melbourne Planetarium's Tanya Hill told Mashable Australia people residing in the Southern Hemisphere should face toward the northern sky in order to see the five planets in their arrangement. For everyone living in the Northern Hemisphere, facing south and scanning the eastern horizon's skies should provide a spectacular view. 
So New Yorkers waking up on Thursday and Friday at least an hour before the sun rises at 7:15 a.m. Eastern will be able to see the five bright planets in all their glory. Californians in Los Angeles will have to poke their heads out before 6:00 a.m. to witness the site, as the sun is set to rise on Thursday and Friday at 6:57 a.m. and 6:56 a.m. local time, respectively. 
Jan. 20, 2016, 10:53 a.m. Eastern: This story has been updated.