Ex-Porn Star Sunny Leone Beautifully Dismissed a Reporter's Slut-Shaming Questions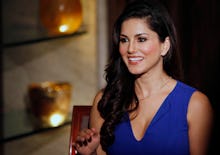 Sunny Leone has a unique story. Formerly a popular porn star, today Leone is a successful Bollywood actress — and she doesn't have any issues reconciling the two.
Others, however, do. This was recently evidenced with a slew of interview questions directed at Leone that some have referred to as rude and slut-shamey. During a segment on talk show The Hot Seat, journalist Bhupendra Chaubey bombarded Leone with a number of queries about her "porn queen" past. The questions, in no particular order, included such gems as: 
"How many people would think in terms of growing up to be a porn star?" 
"Do you believe that ... it's your body that will ultimately take you everywhere?" 
"If I was to turn the clock back, would you still do what you did?"
"Do you not sometimes get affected by the fact that your past ... will continue to haunt you?"
Then he stopped and asked her a professional question about the (definitely-not-porn-related) work she was there to promote.
JK!
He actually said, "Some are accusing you literally of lowering the level of the fine art of cinema."
Leone remained relatively composed and unfazed throughout the line of questioning, an impressive feat considering its weirdly accusatory tone. When asked if she "would still do what she did," Leone said, "100%." She added, "Everything that I've done in my life has led me into this seat. So, it's a chain reaction that happens. Everything is a stepping stone to something bigger or better... that's what life is all about."
Regarding her experience in porn, she said, "I don't have any horror stories. I wasn't abused, I wasn't beaten, I wasn't molested, I wasn't raped."
It's not entirely surprising that a journalist in India would make a big deal about Leone's past in the adult industry, considering that the country is known for being rather conservative when it comes to sex (even though data indicates that its residents do low-key watch a whole hell of a lot of porn).
But the reaction of Leone supporters who are defending her across Twitter suggests that Bollywood fans aren't exactly as conservative as one might think.
Meanwhile, Chaubey defended himself in a blog post, claiming that he "wasn't aiming to be a moralist" but was rather trying to get the full story for any potential moralists in the audience. (Insert side-eye and/or eye-roll GIF here.)
"I simply did the job of asking questions, yes which were perhaps moral in nature. But isn't that also the story?" he wrote. "I did mention this multiple times in course of the interview that Indians were a bunch of hyper hypocritical people."
Whatever. Either way, in conclusion, a line from Sunny Leone's Twitter bio:
"Only GOD will Judge!"
h/t  Washington Post