'Newtown' and 'Under the Gun' Tackle Gun Violence at Sundance Film Festival 2016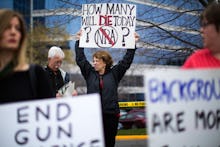 Congressional Quarterly/Getty Images
Film lovers, critics, movie producers and actors will gather in Park City, Utah, on Jan. 21 for 2016's Sundance Film Festival. As is tradition for more than three decades, the 11-day-long event will cast a spotlight on some of the best, most poignant current independent films and documentaries. At the core of the event is unpacking the messages these films represent, and two such films, Newtown and Under the Gun, hit on one of the most pressing and polarizing issues of our day — gun violence.
American filmmaker Kim A. Snyder directed and produced Newtown, which is a documentary that explores the tragedy of Sandy Hook, a mass shooting that occurred on Dec. 14, 2012, in Newtown, Connecticut. On that day, Adam Lanza opened fire at the elementary school, killing 20 children and six adults. 
In the documentary, Mark Barden, a father of one the victims says, "I still dread that every day I live, I'm one day farther away from my life with Daniel," according to Sundance's film writeup. During the documentary, another parent adds, "There are dreams when I'm in the classroom and I'm able to stop him." 
Read more:
In Snyder's documentary, viewers are given a window into the community most affected by the Sandy Hook shooting — parents, teachers, school employees and local law enforcement officers. During the course of the 82-minute-long film, personal narratives come to light as the community continues to suffer over the unthinkable tragedy of that day. 
Similarly, Under the Gun, another documentary to be showcased at Sundance this year, takes a bold look at gun violence in the United States. The film was produced by American journalist, author and long-time TV news anchor Katie Couric. The documentary, which Couric collaborated on with director Stephanie Soechtig, offers up narratives from the families of gun-violence victims, as well as firearms advocates. 
"It will be a great jumping-off point for a conversation about this subject," Couric told the Hollywood Reporter. "People talk at each other a lot when it comes to this issue, but — call me an optimist — I really think we have an opportunity to have a civil, productive conversation with the majority of Americans in this country who feel gun violence is unacceptable — and that's both those who do and those who don't own guns."
Both films come at a heightened time of gun violence in America. On Dec. 2, a fatal mass shooting in San Bernardino, California, left at least 14 people dead and at least 21 others injured. That same day, a separate shooting across the country in Savannah, Georgia killed one woman and injured three others. And just days before both gruesome attacks, on Nov. 27, an anti-abortion extremist named Robert L. Dear opened fire in a Planned Parenthood in Colorado Springs, Colorado, killing three victims and injuring at least nine others. 
On Jan. 5, President Barack Obama addressed the nation to issue proposed executive orders on gun control. During his speech, Obama wept after mentioning the shooting at Sandy Hook.
"I believe in the second amendment, that guarantees a right to bear arms," Obama said during his address. "I believe that we can find ways to reduce gun violence consistent with the second amendment."