A New Report Ranked the Best Countries — And the US Doesn't Even Get Bronze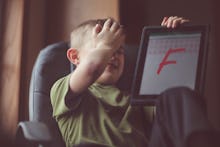 Trump's cry to "Make America Great Again" may be well-founded, according to a new U.S. News & World Report study. 
Based on dozens of factors like quality of life, cultural influence, heritage and adventure and a survey of over 16,000 people, the outlet came up with its first-ever definitive ranking of overall best countries. The United States only managed to swing fourth place. Germany, Canada and the United Kingdom beat out the U.S. for the top three spots, in that order. 
("Happiness," however, did not appear to factor in the rankings, with Switzerland — the "happiest" according to 2015's World Happiness Report — not even ranking in U.S. News' 60-country list.)
According to the magazine's overview, the U.S. gains points for its cultural and racial diversity and for its contributions to music, literature, film and television. Still, the summary says, "Despite being the foremost global power, the U.S. still faces domestic challenges, including racial tensions, income inequality and an increasingly polarized electorate.
"While national security is a concern, so too is the debt incurred from wars meant to ensure it. The U.S. leads the developed world in deaths due to firearms."
These drawbacks may come as no surprise to Americans who have been keeping up with national debates on gun control and police brutality that came to the fore in 2015. The U.S. did manage to break the top three in a number of individual categories, landing the top spot among most influential countries and third-best in education, countries to start a career, forward-looking nations and study abroad destinations.
This isn't the first study to poke a hole in theories of American exceptionalism. In July, the Social Progress Index showed the U.S. lagging behind more than 20 countries in its rankings on basic human needs, countries with fewest murders, violence and discrimination against minorities and — the kicker — freedom and personal choice. 
But some may still be wary of U.S. News's new report, given the dubiousness with which its annual college rankings are received. In 2013, the Atlantic recommended its readers "ignore" the assessment of U.S. institutions of higher education. "Using the U.S. News rankings for any more exacting purpose is about as good for you as eating potato chips and Gummy Bears for dinner," wrote John Tierney. "With maple syrup."
So what should we take away from knowing our place in the world? John Gerzema, chairman and CEO at BAV Consulting, told U.S. News, "We live in a social, open and interdependent world. And in this world what we saw that people valued more were things like global citizenship, quality of life and innovation that was creating inclusive prosperity for more people.
Get the five stories that will challenge you to rethink the world by signing up for MicCheck Daily.