Heathcliff Berru, Publicist Acussed of Sexual Harassment, Shares Apology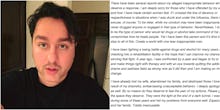 Throughout Tuesday and Wednesday, music publicist Heathcliff Berru, CEO of Life and Death PR, watched his empire crumble before his eyes on Twitter. 
It started with Dirty Projector vocalist Amber Coffman. She shared a story Tuesday evening about having her ass rubbed and her hair bitten by a "popular music publicist," whom she later named as Berru. 
Gradually, a flood of musicians came to stand beside her. Bethany Cosentino of the indie band Best Coast said she had experienced the same. Tearist's Yasmine Kittles shared her own account. Beth Martinez of Danger Music PR tweeted she could "verify [Coffman's account] from personal experience." Musician Roxy Lange, photographer Faith Silva and Little Big Music's Christy Merriner all said they had similar experience to Coffman's. 
By Tuesday afternoon, a statement from Life and Death PR said Berru had stepped down as the company's CEO. On Wednesday, Berru shared his own statement, pointing to his drug and alcohol addictions as the causes for his "alleged" behavior.
"I do not want to be the type of person who would let drugs or alcohol take command of his life and compromise how he treats people," Berru wrote in his statement. "Yet I have been this person, and it's time to put a stop to all of this. Create a world with one less inappropriate man."
While keeping some distance from some of the accusations — he still holds he never gave roofies to any women, despite several claims to the contrary — he admits he has already "lost my wife, abandoned my family and destroyed those I love as a result of my shameful, embarrassing unacceptable behavior."
Berru has lost the company he helped found, as well. "The company shouldn't have to deal with this distraction and I want Nick and the rest of the team to continue to do their good work while I take care of myself," he wrote. He'll be entering a rehabilitation facility to help treat his addiction.
Unfortunately for Life and Death PR, it has already lost a good number of the acts it once represented. Sadie Dupuis from the band Speedy Ortiz confirmed she'll be severing ties.
Punk band Wavves claimed the same, with a colorful Apprentice-era Trump meme.
D'Angelo, Kelela, DIIV, Beach Fossils and Mixpak have all also cut ties. 
Rapper Killer Mike weighed in Wednesday morning on the abuse allegations, pledging his support to Amber and the other women who have come forward. However, he's staying with the company, saying over the course of two tweets, "We chug along without Cliff but with hope that he grows into the best version of himself we all know is there."
Coffman has been amazed at the momentum her tweets have been to produce. "I feel relieved more for other women than I do for myself," she told New York magazine. "Especially just seeing how many people have stories about him, it does feel kind of good that he doesn't get a pass anymore."
However, according to a tweet posted Wednesday, Berru's apology did not go nearly far enough.
Read Berru's apology here.