Seth Meyers Hilariously Details the Rise of Bernie Sanders in Latest Polls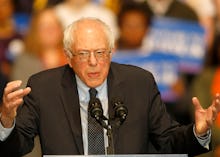 Hal Yeager/Getty Images
Vermont Sen. Bernie Sanders is closing in on former Secretary of State Hillary Clinton in recent national and state polls as the Feb. 1 Iowa Caucus approaches, however comedian Seth Meyers highlighted an area where there's still a giant gap between the two candidates — media coverage time.
During Tuesday night's episode of Late Night With Seth Meyers, Meyers cited a report that showed Sanders only received 10 minutes of nightly election coverage in 2015, while Clinton received a vastly unequal 113 minutes (GOP frontrunner and real estate tycoon Donald Trump got 234). 
Read more:
"Bernie got 10 minutes, 10 — that's it," Meyers said. "And five of those minutes came when he tried to sell his stamp collection on a recent episode of pawn stars."
Meyers documented Sanders recent surge in the polls despite his lack of coverage time. He first showed clips of media outlets reporting on Clinton's plummeting national lead (a faster decline than she experienced in 2008 when she faced then-Illinois Sen. Barack Obama) and polls that showed Sanders leading Clinton in Iowa. 
Meyers also shared a clip of Clinton pointing out the inconsistency between two recent polls before claiming she doesn't "pay attention to" poll numbers, a contradiction that didn't go unnoticed. "You can't say 'I don't pay attention to polls' right after citing a poll," Meyers said. 
Meyers offered several theories to explain Sanders' sudden surge, including that young voters "see him as authentic" and that he's entered the "Betty White zone," a place he said is "reserved for the elderly who are so cool they make young people believe it will actually be fun to get older."
Sanders and Clinton are virtually tied in Iowa, according to the most recent Bloomberg Politics/Des Moines Register poll, regarded as the "gold standard" of Iowa polls. 
Sanders newfound legitimacy made him a hot topic at the latest GOP debate. "Hillary Clinton is getting serious competition from Sen. Bernie Sanders," Fox Business Network's Maria Bartiromo, a co-moderator, said leading up to a question for Ohio Gov. John Kasich. "He is now at 41% in the latest CBS/New York Times poll. Vice President Biden sang his praises, saying 'Bernie is speaking to a yearning that is deep and real. He has credibility on it.'"