R. Kelly Talks About the "Good" Bill Cosby While Discussing Generational Sexual Abuse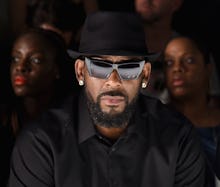 Wednesday, GQ published one of the most revealing interviews R. Kelly has ever given — and what it revealed was not at all pretty.
In the interview, Kelly was pressed about his past accusations of child pornography and statutory rape. While he didn't flat out refuse to respond (as he did in a Huffington Post Live interview in December), he did offer some very questionable explanations while attempting to clarify his troubled sexual history.
In one moment, while attempting to explain that he's actually broken the cycle a "generational curse" of sexual abuse and poverty that has plagued his family for years, he compared himself to Bill Cosby. However, he was quick to clarify which Cosby he was referring to: "the good one."
"Generational curse doesn't mean that the curse can't be broken," Kelly told GQ. "Just like having no father, that's a generational curse. Which is why, when my kids were born, I was Bill Cosby in the house. You know, the good one. You know, let's be clear there: how we saw Bill Cosby when we were coming up."
It may be a more apt metaphor than he'd like to admit. 
Just like Cosby, Kelly has never actually been found guilty for any of the numerous accusations of sexual assault that have been leveled against him over the years, which include allegedly filming himself having sex and peeing into the mouth of a girl who prosecutors argued was as young as 13 at the time and allegations of extended relationships with high school girls. His past is littered with out-of-court settlements and evasive tactics to avoid speaking to his charges in interviews. Just as he continues to deny the validity of his accusers' claims, he's equally suspicious of those leveled against Cosby.
"Well, my opinion on that is, I don't know what happened," Kelly told GQ. "I'm a fan of Bill Cosby's from [The Cosby Show], of course — who's not? — and for me to give my opinion on something that I have no idea if it's true or not, all I can say is that it was a long time ago. And when I look on TV and I see the 70-, 80-, 90-year-old ladies talking about what happened when they were 17, 18 or 19, there's something strange about it. That's my opinion. It's just strange."
When pressed, he went on a rant attempting to explain what strange means ("Strange is strange. I can't explain strange. That's why strange is strange. Because it's something we can't explain."), adding that the only way he would admit they were telling the truth is if "God showed me that they were telling the truth, I would say that's wrong."
"God is the only one can show me that," he continued. "No man can tell me that. No woman can tell me that. And when you wait 70 years, 50 years, 40 years, to say something that simple, it's strange. You know why I say that is because it happened to me, and it wasn't true."
The struggle to embrace Kelly's music following his multiple accusations of sexual misconduct is eerily similar to embracing Bill Cosby's work now that the full extent of his alleged crimes are coming to light. Cosby was an icon for the black community as Dr. Heathcliff Huxtable on The Cosby Show — a perfectly wholesome picture of success. That's obviously the image Kelly was trying to conjure with his comparison. However, that legacy has been irrevocably tainted by the allegations from Cosby's offscreen life. 
Kelly's music suffers the same way. Listening to the explicit, slurping sounds that appear on records like "The Poem," along with the elaborate sexual metaphors he creates, can feel extremely uncomfortable when considering his past. Yet many fans continue to flock to his music just the same. 
The truth about Kelly's past accusations may always remain unclear, as he's not likely to suddenly confess to any crimes. It'll remain up to fans to decide what they buy — and whether supporting another entertainer with a Cosby-esque past is worth the cost.