People in Iraq Are Using Facebook to Buy and Sell Black Market Weapons, Says Report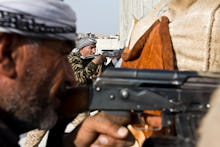 Private Facebook groups based out of Iraq are being used "to peddle and purchase everything from assault rifles and pistols to flak jackets," Vocativ reported, based off intel obtained by its Deep Web analysts. 
A local black market arms dealer spoke with Vocativ about the thriving Facebook-facilitated industry.
"The people who buy these weapons are common and poor people, not rich," the dealer, who chose to remain anonymous and is based in the Shiite-majority Sadr City, told the website.
"You know the situation in Iraq, there is war," he added. "Common people couldn't protect themselves and now we learned from this lesson."
He noted many of those purchasing weapons on Facebook are Shiite Iraqis using guns to protect themselves against ISIS, or the Islamic State group. 
Used Glocks and other handguns are reportedly being sold for $800-$900 — roughly twice the price of a secondhand Glock in the United States.
A United Nations report released on Tuesday revealed that nearly 19,000 Iraqi civilians have been killed and thousands tortured in 21 months, partly due to ISIS' established caliphate.
The dissemination of weaponry amongst warring factions and ordinary citizens alike has proliferated as the country has plunged deeper into civil war.