88 Detroit Public Schools Closed After Teachers Protest Conditions in 'Sickout'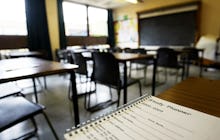 Eighty-eight of Detroit's 97 public schools were closed Wednesday when teachers participated in a districtwide "sickout" to push for demands related to school conditions and their rights as employees. 
CNN reported the protest aligns with President Barack Obama's visit Wednesday, when he met with Detroit Mayor Mike Duggan and celebrated the revival of the city's automobile industry. 
In lieu of going into work, members of the Detroit Federation of Teachers will be handing out leaflets at the North American International Auto Show in Detroit and encouraging attendees to sign a #SaveDetroitKids petition, though the federation advised that any teachers who did not call in sick to report to work. 
Without providing an exact figure, the statement noted a "high volume" of the absences gave school officials "no other choice" than to close the schools. Wednesday's sickout was Detroit Public Schools' largest in recent months.
"All DPS employees have sacrificed a tremendous amount over the last eight years to move our district forward," the statement said, according to the Detroit News, adding that 44,790 of the district's 46,325 students missed a day of instruction due to the closures. "We can't thank them enough for their hard work under very difficult circumstances. However, students need to be in the classroom learning."
The statement goes on to say the district will continue to meet with the federation of teachers to "develop viable solutions" to their demands. The Detroit Federation of Teachers reported that three of these have already been met in a letter of agreement DPS emergency manager Darnell Earley signed Tuesday. The agreement specifies that weekly teacher meetings shall not exceed one hour, sick leave will be accrued all at once and the district will establish a joint committee to address curricular issues. 
However, these negotiations fail to solve larger questions of underfunding that have yielded the poor conditions afflicting some Detroit schools. In a video accompanying their petition, the teachers' group reveals some of the worst of these circumstances in Charles L. Spain Elementary and Middle Schools. School counselor Lakia Wilson reveals the gym, closed for its damaged floorboards, the playground, taped off due to an open pipe releasing 110-degree steam into the area, and other neglected problems in one school alone.
Singer Cher, who has most recently made news for donating 180,000 bottles of water to the city of Flint, which is around 70 miles north of Detroit, shared in the outrage over the schools' conditions, tweeting photos of mildew and water damage in the classrooms.
A slew of photos like these are routinely shared by Detroit teachers via the Twitter account @Detroitteach. U.S. Uncut rounded up the most shocking of them, noting that one teacher quit her job after she'd had enough of the health-threatening conditions.
DPS maintained in their statement, "The only way we will be able to address the bigger issues is through an investment by the Michigan Legislature in the students and families of DPS by the Michigan. Obtaining this support becomes more difficult with each sickout that happens."
American Federation of Teachers Administrator for DFT Ann Mitchell and DFT interim president Ivy Bailey wrote on the DFT website Tuesday they know there's a long way to go. "Make no mistake: We understand that this is only a first step," they wrote. "But we are committed to the fight to win the schools our students need and the respect and pay teachers deserve."