Paramore New Album: Release Date Info, Details and More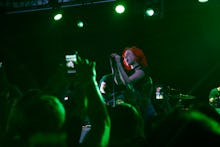 Jason Decrow/AP
It's been a decade since female-led, pop-punk band Paramore first hit the music scene with its debut album All We Know Is Falling, and it's been three years since its self-titled fourth album, a song from which won the band a Grammy for best rock song. On Tuesday, lead singer Hayley Williams answered a fan on Twitter confirming that the band has started writing its fifth album. Her tweet read, "We are writing it." 
Williams and Paramore have yet to inform the public about any other information regarding the new album, such as its release date, title or any tracks.
Read more:
Williams has been alluding to an upcoming album. In September 2014, Williams told Billboard that the band was in the "dreaming-up stage," and that they're "gonna make a great record when the time is right, but it just hasn't been right yet." In March, Williams wrote on the band's website that she had "no idea what is next for Paramore, but I can't wait to find out," and added that she's been working on other projects, like a hair dye line. 
But since then, the band itself has undergone some internal changes. In December, the band announced on its Facebook page that bassist Jeremy Davis was leaving the band. "To be honest, this has been really painful," the post read. "After taking time to consider how to move forward, we ultimately found that we really do believe Paramore can and should continue on." In 2010, brothers and lead guitarist and drummer Josh and Zac Farro departed the band, according to Rolling Stone.
This leaves Williams as the only original Paramore member, accompanied by guitarist Taylor York, who joined in 2007. The band, along with Chvrches and Vacationer, is set to set sail for its March cruise concert series called Parahoy.