Ted Cruz for President: Campaign Slogan, Logo and Website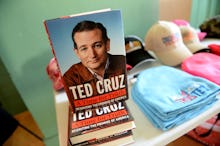 Darren McCollester/Getty Images
Texas Sen. Ted Cruz is still on the heels of GOP frontrunner Donald Trump in the latest national polls, and the presidential candidate has seen his Republican support keep him in a secure second place ahead of Florida Sen. Marco Rubio. Since he announced his presidential bid in March, the senator has continued to try to garner support among conservative voters. Like any candidate, he's created his own campaign slogan, campaign logo and website that shows the ways supporters can contribute to his cause — despite some media criticism for his marketing decisions. 
Ted Cruz's slogan for his campaign is "Reigniting the Promise of America," a phrase he also used while promoting his new book in June. However, in a ranking of presidential candidate's campaign slogans, the Washington Post placed it as the fifth-best in a pool of eight, criticizing the senator for using a slogan with overused, cliche terms.
"Every election is about 'reigniting the promise of America' or 'taking America back' or 'restoring our future,' but if we're taking America back every four years, shouldn't it be taken back at some point?" Hunter Schwarz wrote for the Post. 
Cruz unveiled his campaign logo during his initial candidacy announcement, though it did not go over well with graphic designers, artists and the social media world. Speaking with Business Insider, artist Milton Glaser — best known for the iconic "I ? NY" logo that litters every New York City gift shop — compared it to a "flag burning." 
Social media, unsurprisingly, was more blunt. 
Conversely, though, Scott Stowell, the founder of NYC design studio Open, told Business Insider that he saw similarities with Cruz's logo and President Barack Obama's logo from his 2008 campaign.
"Since Ted Cruz is another first-time presidential candidate running with only two years of Senate experience, it's interesting (if coincidental) to note the similarities between his logo and President Obama's," Stowell said, according to Business Insider. "Both use old symbols in new shapes to express their messages." 
The logo is also prevalent throughout Cruz's campaign website, which features extensive sections on Cruz's major policy issues, personal background, events and news related to the senator. 
Overall, Cruz's campaign message is clear: He's here to fight for clear, right-wing ideals in limited government, Second Amendment rights and the removal of Obama's health care law, also known as "Obamacare," and if you want to join him, it's easy and accessible in the digital space.