Who Is 'The Danish Girl' Star Alicia Vikander? How Oscar Nominee Got Her Start in Film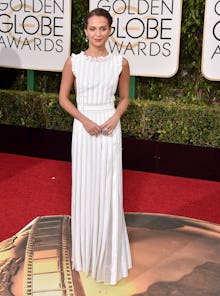 Jordan Strauss/AP
Swedish actress Alicia Vikander hasn't been a Hollywood fixture for long, but the 27-year-old is already making major waves — her performance in the 2015 film The Danish Girl earned Vikander her very first Oscar nomination. So what's the story behind Vikander's arrival in the American film industry and her sudden rise to the top?
Vikander was born in Gothenburg, Sweden, and studied ballet for nine years before deciding, in 2009, to pursue her acting career, according to a profile in W Magazine. "I vividly remember watching women in films when I was 9 or 10, picturing them being what I'd be like as an adult. I had these real female crushes on certain actresses," Vikander told the Guardian in December. 
After acting in Swedish films and television, Vikander's big Hollywood break came in 2012, when she appeared alongside Keira Knightley and Jude Law in a film adaptation of Anna Karenina. That same year, Vikander starred in the foreign historical drama A Royal Affair, a role for which she learned to speak Danish.
In 2015 Vikander appeared in six films, including the critically acclaimed sci-fi film Ex Machina, the action film The Man From UNCLE and The Danish Girl. "They're all kind of weirdly coming out at the same time," Vikander told Popsugar in June. "It's a lot of press, which is different from being on set, but it all just comes down to: I'm very happy the films are going to get an audience."
Vikander is also reportedly dating actor Michael Fassbender, her co-star in the upcoming drama The Light Between Oceans.
Vikander's sudden ubiquity in the film world led Vogue to call her "Hollywood's skyrocketing star," and to announce, in a December interview, that "Like Jessica Chastain in 2011, [Vikander] seems suddenly to be in everything, all at once."
If Vikander takes home an Oscar at the upcoming Academy Awards, she'll certainly have cemented her breakout year in Hollywood — but, even without winning, she'll likely remain a major Hollywood fixture. In addition to her upcoming film with Fassbender, Vikander is set to star in 2016's Tulip Fever and in the next film in the Bourne series.