Stacey Dash Says We Should Get Rid of BET and Black History Month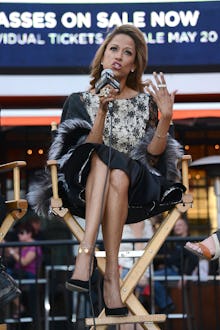 Araya Diaz/Getty Images
In response to the call for an Oscars boycott by actress Jada Pinkett Smith after not a single actor of color was nominated for an Academy Award, former Clueless actress Stacey Dash believes the solution is simple — get rid of Black Entertainment Television and Black History Month.
"We have to make up our minds. Either we want to have segregation or integration," the actress said Wednesday on Fox News' Fox and Friends. "And if we don't want segregation, then we need to get rid of channels like BET and the BET Awards and the Image Awards where you're only awarded if you're black. If it were the other way around, we would be up in arms. It's a double standard."
Read more:
When Fox News host Steve Doocy asked Dash if she believed that there should not be a BET channel, Dash replied, "No, just like there shouldn't be a Black History Month. You know, we're Americans. Period. That's it."
"Are you saying there shouldn't be a Black History Month because there isn't a white history month?" Doocy said, to which Dash replied, "Exactly!" 
BET, allegedly in a deleted tweet, wrote in response, "Oh really? Without Black History Month, would Stacey Dash be able to troll her way to a monthly Fox paycheck?"
Dash is no stranger to controversial comments. In 2013, the actress bashed the former talk show host Oprah Winfrey for her comments regarding the Trayvon Martin case. That year Dash challenged the American Civil Liberties Union and the NAACP on voters rights. 
The 2016 Oscars will be Sunday, Feb. 28, at the Dolby Theatre, and will be televised live on ABC at 7 p.m. Eastern.
Correction: Dec. 20, 2016