Daniel Radcliffe Plays a Dead Body in 'Swiss Army Man'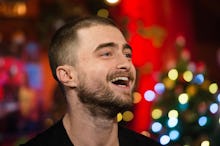 Jeff Spicer/Getty Images
Actor Daniel Radcliffe has taken on several interesting roles since the Harry Potter series ended, but the role he plays in the Swiss Army Man movie to premiere at Sundance Film Festival 2016 might top them all: a dead dude.
Radcliffe first appears in the film when actor Paul Dano's character Hank finds his body washed up on shore in the wilderness and befriends it, Indiewire reported. The unusual friendship sounds similar to that of Tom Hanks and the volleyball in the classic 2000 film Cast Away, except this time it's Radcliffe's corpse instead of an inanimate object. 
Read more:
Judging from the stark contrast between the two films' directors, they won't be as similar as the plots suggest. Cast Away was directed by Robert Zemeckis, director of several blockbusters like Back to the Future and Forrest Gump. Swiss Army Man, however, is a feature film debut for music video-directing duo Daniel Kwan and Daniel Scheinert, who have directed music videos including DJ Snake and Lil Jon's "Turn Down for What" and The Shins' "Simple Song."
Sundance Film Festival director John Cooper told Indiewire Kwan and Scheinert are "visionaries who take no prisoners," and that Swiss Army Man is "a really wild film that I hope creates both confusion and excitement."
In a November interview with NME, Radcliffe said he's proud of his interest in what some call "weird" roles. "People do ask me, 'Why do you choose such weird movies?'" he said. "But I don't think they're weird, they're just stories I'm interested in." 
Besides, he'd rather have weird taste than mainstream taste. "Isn't having weird tastes good, though?" he added during the interview. "I think so. I think that's better than always wanting to play the handsome hero."
The Sundance Film Festival runs from Jan. 21 through Jan. 31 in Park City, Utah. Here are 10 more highly anticipated films that will premiere and screen at Sundance.