For Women, Higher Salaries Mean Greater Health Concerns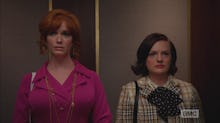 Everywhere they turn, today's modern women are told to lean in. They're told to carve out space for themselves both at home and in the workplace. They're told to strive to have it all.
Unfortunately, all of that pressure may come at a price.
In a new study published in the Harvard Business Review, Meghan FitzGerald, the executive vice president of corporate strategy at Cardinal Health and a faculty member of Columbia University's Mailman School of Public Health, polled 369 North American women about their health. Many of them work for Fortune 500 companies; they also ranged in age from 21 to 60, had varied levels of education and income and occupied all levels of the corporate ladder, from senior to entry level.
You might assume that women with higher levels of income and education would be healthier. This inkling certainly wouldn't be coming out of nowhere: The correlation between better health and higher levels of income and education is well documented.
Yet according to FitzGerald's results, women with higher education and income levels reported feeling less healthy overall, despite faring better on individual health indicators like sleep, weight and alcohol intake.
The numbers: Less-educated women said they had between 2.5 and 3 drinks per night out, versus 1.5 for more-educated women. Women who made between $20,000 and $50,000 had a mean BMI of 29; for women who made more than $1 million, that number was a little over 22. A BMI of 18.5 to 24.9 is considered "healthy" by the Centers for Disease Control and Prevention, while 25 to 29.9 is "overweight."
Meanwhile, roughly 30% of high school graduates reported getting less than six hours of sleep per night, compared with about 15% of women with doctorate degrees.
But overall, "healthier" women felt less healthy overall. They also worried more about their health. 
The mean "general health" indicator — a self-reported number measured on a scale from 1 to 5 — for women who made more than $1 million was just under 2. For those women making between $20,000 and $50,000, the number was about 2.5. (Interestingly, women who made between $500,000 and $1 million were much closer to the high of 2.5; FitzGerald didn't provide much in the way of an explanation for this difference.)
"How can this be?" FitzGerald wrote in the Harvard Business Review. "How can women who report being healthier and less stressed on specific measures feel less healthy overall and worry more about their health?"
Unfortunately for women everywhere, the study didn't provide many answers. FitzGerald posited that wealthier, more educated women may hold themselves to higher health standards for health, or that since they don't need to worry as much about money, they may have more energy to think about their health, or that "those who choose to pursue more education are more likely have certain personality traits that lead them to be concerned about their health."
Whatever the case may be, FitzGerald's study certainly isn't the first to connect working women and bad health. As Mic's Jenny Kutner reported in August, women who work in male-dominated areas are plagued by "abnormally high stress levels."
It should be pointed out, of course, that the key word in FitzGerald's study is "self-reported" — the women who self-reported feelings of lesser health didn't necessarily score that way quantitatively. What's more difficult is pinning down exactly why that discrepancy occurs.
For her part, FitzGerald noted that she's working on a similar study about men, which may shed some light on this issue. For now, however, women the prospect of having it all just got a little bit scarier.
h/t Fortune