Sundance 2016 Movies: List of This Years Most Talked About Films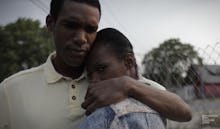 YouTube
The countdown to the 2016 Sundance Film Festival is nearly over, and the buzz surrounding the independent festival is tangible. The event, which will play out in Park City, Utah, between Jan. 21 and Jan. 31. No small number of movies will be showcased at the festival, and compete to win prestigious awards from the event organizer's panel of judges.
"Sundance Institute has summoned 23 film, theatre, culture and science experts for jury duty to award 27 prizes at the 2016 Sundance Film Festival," the event's organizer's said in a Jan. 12 press release. "The six juries of film and culture leaders screen all films in their respective sections and jointly decide which standout artistic and story elements to recognize with prizes. In addition, Festival audiences vote for their favorite films and five Audience Awards are given to films in the U.S. and World Competitions and Next."
Here's a roundup of just a few of the works that film savants can't wait to see.
Southside With You
Directed by Livingston, New Jersey, native Richard Tanne, Southside With You tells the story of President Barack Obama and Michelle Obama's earliest days — how they met and fell in love.
Equity
Set on Wall Street, Equity stars Anna Gunn as she grapples with personal and professional discoveries, meanwhile gunning for a promotion and helping guide the financial firm through an IPO. Directed by Meera Menon and written by Amy Fox, the film paints a new narrative within the confines of the world of finance. 
The Birth of a Nation
From humanitarian, filmmaker and actor Nate Parker comes The Birth of a Nation, a historical drama set in the 1800s and encircling the story of Nat Turner. "Nate Parker returns to the Festival with this bold, compelling, and deeply inhabited first-time feature—and proves that he is an ascending triple-threat talent," writes Sundance's organizers. 
Swiss Army Man
Part comedy, part drama, Swiss Army Man stars Daniel Radcliffe as Hank, a man on a mission to find his way home whose only companion is a dead body. The film was written and co-directed by Daniel Scheinert and Daniel Kwan.
Newtown
The documentary, which was directed by Kim A. Snyder, takes a deep dive into the lives and narratives of residents in Newtown, Connecticut, more than three  years after the Sandy Hook Elementary School shooting took the lives of 20 children. A subject that's both chilling and unforgettable, Snyder's documentary is a hugely relevant one in America today. 
Kiki
A film created by Swedish artist and filmmaker Sara Jordenö, Kiki shines a light on a LGBT community of young black New Yorkers. The documentary explores a world of dance and a subculture of New York City society that's rarely seen. 
Christine
Set in 1974 and reimagining the true story of television news anchor Christine Chubbuck comes a film from director Antonio Campos. The real Chubbuck, who worked for as a reporter in Florida, is remembered for committing suicide during a live broadcast.
Spa Night
Spa Night was created by Andrew Ahn, a Korean-American, and the film paints a portrait of what it means to be a homosexual, second generation Korean-American. Though not exactly autobiographical, Ahn said in an interview with Sundance that the film's themes are personal. "Spa Night is about growing up," Ahn said in the interview. "It's about becoming your own person. At the beginning of the film, David is attracted to men, he has these desires, but he isn't ready to make it an identity, to make it a part of himself. By the end of the film, David gets it. He grows up."
Other People
A touching yet tragic plot, Other People is a film about a son who moves back home to help his mom live out her days in the final stages of cancer. The film was written by Chris Kelly, who is a writing supervisor who's worked for Saturday Night Live for five seasons. 
Tallulah 
In Tallulah, Ellen Page plays a homeless young women who lives in a van and kidnaps a baby, though the main character believes she's doing the right thing by taking the baby away from a reckless mother. Paige's character passes the child off as her own and convinces the mother of her once-boyfriend that that baby's a blood relative. 
How to Let Go of the World and Love All the Things Climate Can't Change
How to Let Go of the World and Love All the Things Climate Can't Change is like a manifesto for accepting what cannot be changed and fighting for what can, and appreciating the in-between. "My new film ... is an odyssey that goes to 12 countries on six continents to investigate climate change — the greatest threat our world has ever know," writes director Josh Fox. 
For more information on attending the festival, scheduling, ticket sales and purchase options or how to watch from home, head here.