Nick Jonas in 'Goat' Sundance Film Shows the Dark Side of Pledging Fraternities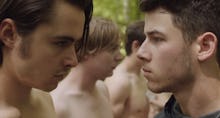 Mic/Twitter
The horror stories of pledging fraternities in colleges throughout America are coming to the silver screens of the 2016 Sundance Film Festival, starring Nick Jonas and Ben Schnetzer in a film titled Goat. The indie flick, produced by James Franco's production company, Rabbit Bandini Productions, is based on the memoir by Brad Land, a college student who transferred to Clemson University to be closer to his brother after being assaulted. 
"Goat is in your face with this intense, at times horrific look at male masculinity," Sundance Film Festival's director of programming Trevor Groth told Entertainment Weekly. "Nick is terrific in it. He's going to get a lot of attention. People will see him in a new way."
Land, played by Schnetzer, pledges his older brother's (Nick Jonas) fraternity in an effort to put aside his psychologically damaging scars and focus on being as normal as possible. Instead, the 19-year-old student is forced into alienation from his older brother and required to fulfill a series of traditions and rituals which test the definition of masculinity and "brotherhood," according to the film's synopsis. 
MTV reported director Andrew Neel will helm the film, best known for films including Darkon, New World Order and King Kelly. Neel cowrote the film along with David Gordon Green and Mike Roberts, according to the Sundance Film Festival. Goat also stars Gus Halper, Virginia Gardner, Danny Flaherty and Jake Picking. 
"As the pledging ritual moves into hell week, a rite that promises to usher these unproven boys into manhood, the stakes violently increase with a series of torturous and humiliating events," Sundance's synopsis of the movie reads. "What occurs in the name of 'brotherhood' tests both boys and their relationship in brutal ways."
The film will have five screenings throughout Sundance for the public. A worldwide premiere date has yet to be announced.