Oscars Opening Monologues Are Almost Always Memorable, Will Chris Rock's Be Any Different?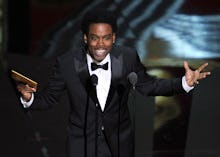 Kevin Winter/Getty Images
With the 88th annual Academy Awards a little more than a month away, the ceremony has been generating both controversy and buzz. All eyes are on Oscars host Chris Rock, as many speculate whether he will acknowledge the absence, for the second year in a row, of any actors of color among the Oscar nominees.
Rock has remained relatively quiet so far, but in a tweet last week he joked the Academy Awards were "the white BET Awards." Rock has not responded directly to those calling for him to back out of the show. 
One thing is for certain though: Viewers are going to watch Rock's opening more closely. The ceremony is known for epic opening performances that reference and spoof that year's nominees. At the 2009 Oscars, host Hugh Jackman performed a musical number inspired by that year's best films (and by the ongoing recession).
2015 Oscar host Neil Patrick Harris drew on his Broadway background for his opening number, which featured clips from throughout film history, including Singing in the Rain, Casablanca and Back to the Future, as well as musical cameos from Anna Kendrick and Jack Black.
Rock is a standup comedian, not a musical theater actor, so it's hard to imagine him singing his way through an opening number. Perhaps he'll take a cue from other comedians who've hosted the show, like two-time Oscar host Ellen DeGeneres, who kicked off the 2014 Oscars with a standup routine that poked fun at the celebs in the audience.
But if Rock really wants to be memorable, he should take a page out of Whoopi Goldberg's book: The Oscar-winner and four-time Academy Awards host started the ceremony in 2002 by descending from the ceiling on a trapeze swing dressed in a sparkly, feathered bustier — and went on to deliver a hilarious monologue that basically roasted the awards show.
The Oscars will air Sunday, Feb. 28 at 7 p.m. Eastern on ABC.