Meet This Year's Best New Artist Grammy Nominees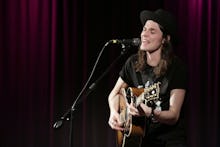 Rebecca Sapp/Getty Images
On Feb. 15, the 2016 Grammy awards will name its best new artist. Only those artists who released a song or album from Oct. 1, 2014, through Sept. 30 and have yet to receive a Grammy (prior nominations not in a performing category are fine) are up for the category, according to Tech Insider. The five artists nominated are Courtney Barnett, James Bay, Sam Hunt, Tori Kelly and Meghan Trainor. 
The best new artist category is the most complicated out of all the others, according to the Recording Academy in 2014. The artist doesn't need to be exactly new to be considered a "new artist" either. "Any performing artist or established performing group who releases, during the eligibility year, the recording that first establishes the public identity of that artist or established group as a performer," is how someone qualifies for the category.
The Grammy's best new artist category started at the second Grammy awards show in 1959, according to Buzzfeed. Last year, Sam Smith won the award. The year before that, it was rapping duo Macklemore and Ryan Lewis. 
Read more:
Each of 2016's artist of the year nominees have had an accomplished year, filled with debut albums, festival runs and hanging out at the top of charts. 
James Bay
Bay first garnered attention when he won a Brits Critics' Choice award in 2015, according to the Guardian. Winners of the award often see their careers skyrocket, and include Adele, Ellie Goulding and Sam Smith. His songs are soulful and guitar-led, reminiscent of Ed Sheeran, according to the Telegraph. In March, Bay dropped his debut album, Chaos and the Calm, which broke the Billboard 200 in April. Familiar Grammy winner Taylor Swift is also a fan of Bay.
Courtney Barnett
Like Bay, Australian indie singer Barnett dropped her spunky debut album Sometimes I Sit and Think, and Sometimes I just Sit in March, which made Rolling Stone call her "one of the sharpest, most original songwriters around — at any level, in any genre." In 2015, Billboard called her the "songwriting Lena Dunham." Barnett got her start at playing guitar at 10 years old, and founded Milk Records in 2012, according to Billboard. In 2015, she conquered the music festival scene, performing at Bonnaroo, SXSW and Sasquatch. 
Sam Hunt
Nashville native and former college football player Hunt represents country music for the Grammy's best new artist, according to the Wall Street Journal. He first dipped his toes in musical waters by writing for big country stars like Keith Urban and Kenny Chesney, according to Entertainment Weekly. His October 2014 debut LP Montevallo cracked the Billboard 200 at No. 3 in November. It was also the genre's best-selling LP for 2015, Forbes reported. His take on country is modern, often sounding like he's rapping his verses, the Wall Street Journal reported. Fans can catch him at this year's Bonnaroo, Rolling Stone reported. 
Tori Kelly
Hailing from California, Kelly's start was similar to Justin Bieber, having been found from singing videos on YouTube — specifically, a 2012 cover of Frank Ocean's "Thinking Bout You," which went viral, Entertainment Weekly reported. Scooter Braun, who "discovered" Bieber and Ariana Grande, signed her soon after. Kelly is known for her strong voice that carries well on catchy pop and R&B tracks. She dropped her debut album Unbreakable Love, which reached No. 2 on the Billboard 200 in July. In September, iconic artist Prince named Kelly as artist he thinks will make it, Entertainment Weekly reported.
Meghan Trainor 
Pop artist Meghan Trainor made a place for herself as a Top 40 favorite with her 2014 upbeat smash hit "All About That Bass," which made it to No. 1, according to Slate. That single actually earned her two 2015 Grammy nominations, according to Billboard. Her debut LP Title came out in January 2015, and sold 238,000 in its first week, knocking Taylor Swift's 1989 from the top spot, the Wall Street Journal reported. Her other solo releases, such as "Like I'm Gonna Lose You," which features John Legend, have also ranked on the charts. 
CBS will air the 58th Grammy Awards on Feb. 15 starting at 8 p.m. Eastern.