7 Asian Actresses Who Could Change the Oscars' Race Problem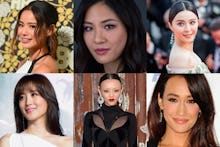 Mic/AP
As public discourse over the 2016 Oscars' lack of diversity continues, Hollywood entertainers are pointing out the industry's whitewashed limelight doesn't just exclude black actors: All-too-often, minority roles are being played by white actresses, leaving many talented Asian entertainers, for instance, in the dark. Studies show Latinos and Asians haven't been nominated for a single award in over a decade, too. 
"Decided to look up Asian Oscar winners and found more white actresses have won Oscars for playing Asians than Asian actresses. #OscarsSoWhite," LGBTQ film director Q. Allan Brocka wrote on Twitter Tuesday. 
With each award show season, Hollywood essentially endorses an "it girl" — always pretty, always buzzing and always... well, white. Undoubtedly, Hollywood's latest it girl is none other than Jennifer Lawrence, who stole the show (yet again) at the Golden Globe awards, winning the best actress in a comedy award for her work in Joy. 
However, there are countless Asian actresses making names for themselves in film and entertainment who are deserving — here are seven of them. 
1. Jamie Chung
Chung has an impressive list of recent films she's starred in, from 2009's Sorority Row to the recent Hangover Part II and III. Since appearing on the 14th season of the Real World San Diego and a small role on Veronica Mars in 2004, the 32-year-old actress has amassed a massive fan base, with over 800,000 Instagram followers.
2. Constance Wu
Wu plays Jessica Huang in ABC's Fresh Off the Boat, a hit TV show based on a memoir about an Asian family which immigrated to the United States in the '90s. It's Wu's biggest role yet since moving to New York to study acting as a 16-year-old. The actress is currently filming a movie titled All the Creatures Were Stirring and is set to continue starring in the groundbreaking ABC family show.
3. Rila Fukushima
Fukushima's effortlessly chic look is unparalleled to most actresses, and her ability to execute a variety of roles compliments her diverse style. The young actress has appeared both on the silver screen and in hit TV shows, starring in Game of Thrones as the red priestess, Arrow as Tatsu Yamashiro and The Wolverine as Yukio.
4. Bingbing Fan
Fan was an A-list Chinese actress before appearing in a number of U.S. films. Her list of films continues to grow, with a number of Chinese and Hollywood movies set to premiere in 2016, including Skiptrace and The Moon and the Sun. Fan is most known in the states for her work in X-Men: Days of Future Past.
5. Claudia Kim
Kim stars as Dr. Helen Cho in Avengers: Age of Ultron and as Khutulun in the TV series Marco Polo. The actress' big break came in 2006 when she starred as Park Ji-won in the TV series Queen of the Game. 
6. Tao Okamoto
Okamoto is an ever-rising star, from the NBC TV show Hannibal to her role in 2013's The Wolverine. Perhaps the Japanese actress' biggest break yet will be in 2016, when she stars in Batman v. Superman: Dawn of Justice as Mercy Graves. 
7. Maggie Q
"Maggie dreamed of becoming a veterinarian, but modeled and found herself bursting onto the Hong Kong movie scene - eventually becoming a full-fledged superstar in Asia," her IMDB page notes. The Hawaiian native has remained busy since being introduced to the Hollywood limelight in the early 2000's. Going from "Girl in Car" in 2001's Rush Hour 2 to her role as Tori in Insurgent and Divergent, the actress of Irish, Polish and Vietnamese descent has exploded on the scene and even was the lead in the TV series Nikita from 2010 through 2013.