Meek Mill Sends 60,000 Bottles of Water to Flint, Michigan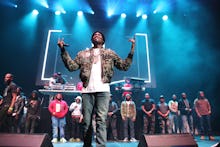 Taylor Hill/Getty Images
Rapper Meek Mill has been called many names since his beef with Drake and 50 Cent. On Wednesday, fans can add another to the list — Good Samaritan. According to TMZ, the Philadelphia native donated to the Flint Child and Family Health Development Fund and sent 60,000 bottles of water to the Food Bank of Eastern Michigan, which is one of the many efforts supporting the residents whose water was found traced with lead.
Read more:
Meek Mill has a history of giving back to the community. In 2012, the rapper gave $10,000 to his former high school when he heard his alma mater was going to close. In 2013, Mill participated in "A Dreamchaser's Thanksgiving," where the rapper teamed up with local Philadelphia-based organizations to feed almost 600 families. 
"Philly raised me and made me into the man I am today, so to do the first annual 'A Dreamchaser's Thanksgiving,' was an obvious thing to do," Meek told Vibe in 2013. "I'm blessed to be in a position where I can make sure that as many people as possible have a meal on Thanksgiving, so that they can be with their loved ones to enjoy the holiday."
Mill has been active lately in his home city of Philadelphia, giving motivational speeches and volunteering at homeless shelters, hospitals and schools, TMZ reported. A source tells TMZ  that Mill isn't being forced to perform any of his charity work by any "court mandated community service."
Pop legend Cher has also donated to Flint, sending 180,000 bottles of water to the beleaguered city. No word yet on if 50 Cent has responded to Meek Mill's challenge to match his donation efforts to Flint.