Winter Storm Update: The Scariest Part of the East Coast Blizzard May Not Be the Snow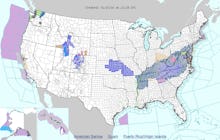 The eastern part of the U.S. is bracing for a significant weather system that the National Weather Service had been tracking. The storm, which is being called Winter Storm Jonas, will bring blizzards and flurries that are expected to begin late Wednesday in Washington D.C. and move northward to Philadelphia by Friday night, the Weather Channel reported. The storm is expected to reach New York and Boston by Saturday morning. And according to the Weather Channel, this particular weather system includes high winds, which could, in turn, cause coastal flooding. 
Slate reports that ocean water surge as a result of winds and snow could reach three to six feet above what's typically considered high tide. "Extensive coastal flooding for three high tide cycles starting on Saturday and Sunday, with the Saturday evening high tide likely the worst," Slate reports. "That relentless surf and surge will probably cause additional beach erosion, making the coastline more vulnerable to floodwater."
Read more:
That said, the degree of flooding depends on a number of factors, among them potential variations in storm winds and temperature differences inland as opposed to on the coastline. The National Weather Service advises U.S. residents on the East Coast to prepare for winter weather by stocking up on necessary supplies, but keep in mind that weather forecasts change often and the storm predictions could either rise or fall in the hours to come. 
"A potentially crippling winter storm is anticipated for portions of the mid-Atlantic Friday into early Saturday,
Snowfall accumulation from the NWS: