Daniel Holtzclaw Sentenced to 263 Years for Sexually Assaulting 8 Women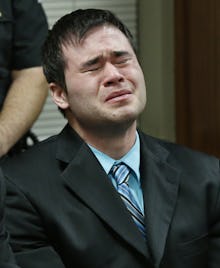 The last time we saw Daniel Holtzclaw he was sobbing his little heart out at the prospect of spending many, many years in prison for raping and sexually assaulting eight black women. Now, we know just how harsh his punishment will be. At a hearing on Thursday, an Oklahoma County judge threw the book at the former police officer, sentencing him to a total of 263 years behind bars.
The sentences will run consecutively, according to reports from journalists in the courtroom.
Holtzclaw was convicted on Dec. 10 — his 29th birthday, coincidentally — on 18 of the 36 counts he was charged with, including sexual battery, forcible oral sodomy and rape, CNN reported. His victims' supporters sang "Happy Birthday" outside the court building as he was led away by police. 
The conviction was the culmination of a monthlong trial, during which all 13 of Holtzclaw's alleged victims testified before an all-white jury about the horrors they endured at the hands of their abuser. The former Oklahoma City police officer's crimes occurred between 2013, two years after he joined the force, and 2014, before he was fired in January 2015.
Holtzclaw targeted mainly poor, black women, most of whom either had a history of drug abuse or a criminal record. They ranged in age from 17 to their late 50s. He was caught during the summer of 2014, after a 57-year-old grandmother — later identified as Jannie Ligons — reported a horrific June 18 traffic stop involving the officer to the Oklahoma City Police Department's Sex Crimes Unit. During that stop, Holtzclaw reportedly made Ligons expose her breasts and forced his penis into her mouth. Twelve more alleged victims came forward over the course of the ensuing investigation.
Between Holtzclaw's arrest and the thick of his trial, few national media outlets covered the story. Some critics blamed a general lack of attention to the types of state violence facing black women. "When we look at how police and state violence affects black women, it includes ... black women and girls being sexually assaulted, harassed and beaten by officers," Charlene Carruthers, national director of the Black Youth Project 100, told Mic in May.
Sadly, this is not a surprising point of erasure. On Nov. 1 the Associated Press released a report saying more than 1,000 police officers across the country lost their law enforcement licenses between 2009 and 2014 due to sexual misconduct, more than half of which stemmed from instances of sexual assault. And those are just the ones who got caught. In the case of Holtzclaw's victims, many didn't report his crimes at first because they were afraid no one would believe them, so it stands to reason other women have done the same.
Now advocates are working on bringing the issue to broader public attention. From Tuesday through Thursday, the African-American Policy Forum — an advocacy group based at Columbia University — hosted a series of actions, webinars and social media campaigns designed to educate people about police sexual assault and stand in solidarity with Holtzclaw's victims. 
"Together, we can demonstrate that an increasing number of activists, journalists and the general public recognize sexual assault as a form of police violence that must be centered in our efforts to combat anti-black state violence," the press release read.
Meanwhile, the sentencing process hasn't been without its hiccups. On Wednesday Holtzclaw's lawyers filed for a retrial, claiming prosecutors withheld important evidence from the defense, according to KFOR. The evidence came to their attention this week via a Facebook post, of all places, written by Oklahoma City Police Detective Jake McClain. The sentencing hearing was delayed for four hours as the judge listened to the defense's motion to retry Holtzclaw. Ultimately, the motion was denied.
Ironically, the new evidence may have been even more damning to Holtzclaw than the original batch: Instead of finding DNA from just one victim on Holtzclaw's pants and in his vehicle, KFOR reported, the post alleges police found DNA from several of the victims. It also alleges the prosecution failed to disclose that a number of other women came forward with accusations against Holtzclaw who were later determined to be lying.
None of it mattered to the judge in the end.